When I started making my own pizza, my biggest struggle was finding a recipe for a homemade pizza sauce that was easy and quick to make, didn't require a ton of ingredients, and had that special taste that I knew from Italian pizza restaurants, but somehow just could not reproduce in my own kitchen.
I had a wonderful recipe for a pizza base made from homemade pizza dough, but somehow both homemade and store-bought pizza sauces left something to be desired.
Now the good news: after a lot of trial and error and trying out many recipes, I did come up with an authentic Italian pizza sauce recipe that ticks all the boxes.
What makes this pizza sauce so good?
First of all, it's a no-cook recipe. Pizza sauce does not need to be cooked – that will happen once the pizza is in the oven. It takes literally no more than two minutes to make. All that's needed are tomatoes (we'll get to that in a moment), fresh garlic, salt, and pepper. It is of course possible to add fresh herbs or dried spices, but for a truly Italian tomato sauce, none of this is necessary. Just a few simple ingredients
Which tomatoes to use?
Here's where it gets interesting. At first, I was tempted to use fresh tomatoes. The problem is that these vary in taste and quite often at least the ones available in supermarkets lack a lot of flavor because they were harvested too early. In Europe, where I live, most of the year they come from greenhouses under artificial lighting and taste rather watery.
So instead, we'll use canned tomatoes. It doesn't really matter whether it's whole tomatoes or tomato chunks. Some people swear by San Marzano tomatoes, but I would say there are a number of good brands out there that are full of flavor. Just don't go with cheap canned tomatoes because they will be disappointing and often the ratio of juice to solid parts is a bit off, which would be a shame since we will not use the juice. There is no need to use the very best tomatoes, but do go for good quality.
Other bloggers are dedicating a lot of time to finding the best canned tomatoes, so if in doubt, do a search and find what's available in your local market.
Ingredients to avoid
Sometimes it's important to also mention things *not* to do. A lot of recipes use tomato paste. Italian cooks will tell you that pizza sauce is not what that's for. Also, never add fresh basil into a pizza sauce – it will turn bitter when cooked. Basil leaves are great on a Pizza Margherita, but it needs to be added only after the pizza has been baked. Do not use tomato pulp either – it contains too much juice. And don't add olive oil into the sauce – a drizzle of extra virgin olive oil over the finished pizza is a much better choice.
Isn't this the same as pasta sauce?
Not at all. The main difference, of course, is that pasta sauces do get cooked. Personally, I also like my spaghetti sauce to be more chunky, contain some more seasoning and have a consistency that allows it to stick to the pasta. Pasta sauce needs to deliver a more comprehensive flavor profile, whereas in pizza, a lot of the flavor also comes from the pizza crust and the toppings.
How to make this delicious sauce
As already mentioned, making this sauce could hardly be easier. For detailed step-by-step instructions and measurements, refer to the recipe card below.
First, strain the tomatoes and discard the juice (or use it to make a Bloody Mary :)). Put the strained tomatoes in a bowl and add a clove of peeled garlic. Add a teaspoon of sea salt / kosher salt and a pinch of pepper. Now blend with an immersion blender until it's almost smooth. Alternatively, put all the ingredients in a food processor and blend. Congratulations, you just finished making the best homemade pizza sauce recipe.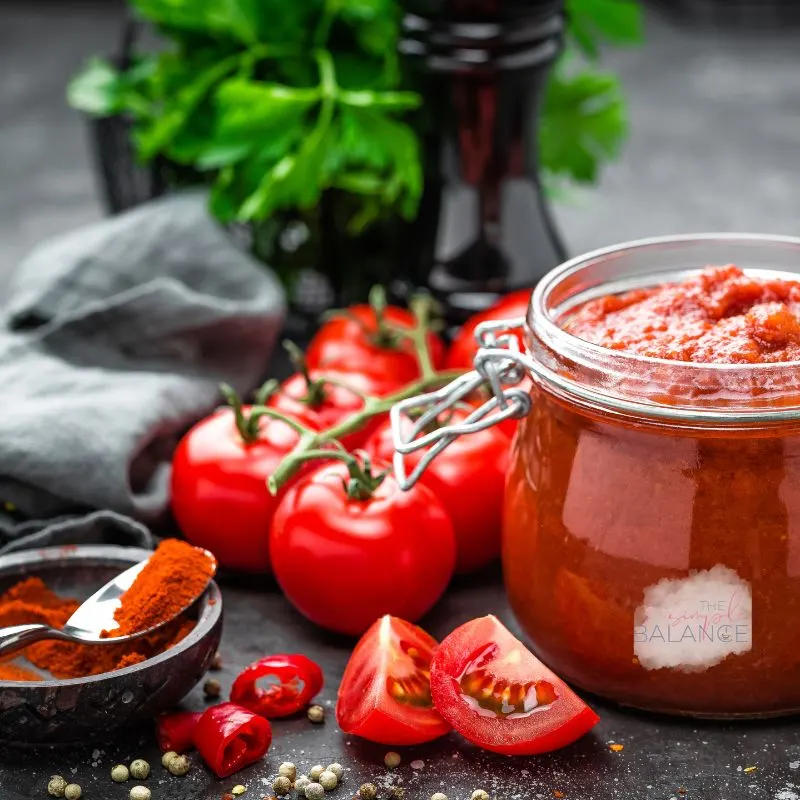 Using it
I would recommend pairing this best sauce ever with the equally delicious quick pizza dough that I wrote about a while ago. Just a thin layer of sauce on top of the rolled-out dough is sufficient, so the pizza develops a nice, crunchy base that doesn't get soggy. For a simple Margherita pizza, just add some mozzarella cheese.
Your oven easily turns into a great pizza oven with the addition of a pizza stone (don't forget to pre-heat it for at least 30 minutes for optimum results). Bake at the highest temperature your oven will allow until the cheese has melted, but before it starts to separate and release lots of oil. Slide out of the oven with a pizza peel, top with some fresh basil and a drizzle of olive oil, and enjoy one of the best pizzas ever.
Of course, you can add additional toppings – for the perfect pizza, add any toppings that don't need baking only after taking it out of the oven, especially if you're adding salami or ham.
Storing it
You'll want to make sure you have enough sauce, so it's tempting to double the recipe. If you end up with too much, the leftovers will keep well in the fridge in an airtight container (which also prevents your fridge from smelling all garlicky). Leftovers can also be frozen and will keep for months in the freezer. On the other hand, why have leftovers… we often use the rest of the sauce as a dipping sauce for the pizza crusts.
Variations
Not that there is a lot to vary about this, but of course, it's possible to use extra spices. I've tried Italian seasoning and also dried oregano – both are nice, but I like the simplicity of the unaltered recipe. Also, in a pinch, you can use garlic powder instead of fresh garlic, but it won't taste quite as good as the original.