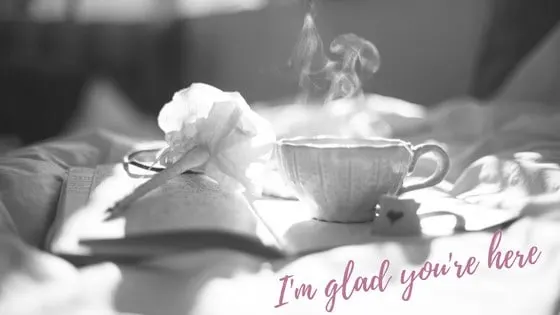 I'm so happy you found your way into my little corner of the vast interwebs so please allow me to introduce myself. My name is Heidi – as German a name as it can be, right? Well, that's because I am in fact German, living in the Wild West of Germany with my husband and three young children. I'm in my late thirties and my kids are between four and eight years of age. Having lived and worked abroad, our home is very much a bilingual one. I am a nurse by training and became a stress management trainer as well.
This blog was originally founded in 2014 with a tongue twister German name I don't expect you to try and pronounce. It means something along the lines of simply simple and it's what I aim to achieve with all of my writing. To give you something to remember me by – other than a German spelling challenge – I created the English part of this site: The Simple Balance – Helping you find more time to enjoy life – naturally.
When I started out with this blog, I was still deeply stuck in the disordered eating of orthorexia which constituted the culmination of two decades of dieting. With clean eating as my main motivator, I was going to rid our home of all things processed. On my journey of leaving the prison of eating disorder behind, I have come to realize something fundamental. As much as I would genuinely LOVE to make all of my own beauty and cleaning products or cook every meal from scratch, I simply don't have the energy reserves to do so.
Trying to get some work done, keeping our house in a somewhat decent state, feeding a family of five with vastly different tastes and preferences, spending time with those cute little people that I love so much – it pretty much takes it out of me long before I can even think of freezer cooking!
So, I'm looking for balance. Balancing my ambition to do it all perfectly and from scratch, homemade and everything, with my desire to enjoy life and keep my sanity. Balancing the fun that is in making your own stuff with the need to find time for the things that recharge me on a deeper level.
On The Simple Balance Blog I want to help you find balance
between your ambition to cook from scratch and your need be mindful of your limited time and energy
between your ambition to clean your home naturally and your need to use common sense
between your ambition to live a healthy lifestyle and your need for rest from the restriction of diet rules
between your ambition to raise your kids to be amazing adults and your need to follow your intuition between all the extreme schools of thought
between your ambition to be up to date on events around the globe and your need to find relief from the worry and anxiety that the news bring into your daily life
How do I want to achieve that? I'll share with you the shortcuts in homemaking, family life, and the kitchen, that made my life much easier. I'll share some of my favorite parenting hacks. I'll take you along on my journey to a restored relationship with food after dieting for the better part of the first 35 years of my life. I'll encourage you to take a look at life from a different angle and find the good news in daily life.
Now that I no longer have the fear of all things artificial or chemical to drive me, I am able to relax into my life – and enjoy it more. And I'd love to take you on this journey with me.
I promise those small steps towards balance are what will help you enjoy life a whole lot more.
As I am making more articles available in English, the corresponding categories will fill up. Here's what you can expect:

In this category, you'll find easy recipes with real food ingredients. I love baking bread the easy way, having spice mixes on hand, starting my day with the occasional smoothie, finding inspiring uses for leftovers and using my Instant Pot for everyday survival. And that's exactly the kind of recipes included here.

If you're looking for DIY cleaning products and tips on all things homemaking made easy, this is the place to check out.

Little crafts, ideas to keep your kids entertained, as well as key strategies for life as a family that I found incredibly useful – that's what you'll find here.

In this category, I've collected articles on home remedies, life without dieting, and a teensy bit on DIY beauty topics.

If you are looking for ways to reduce the stress level in your life and find more joy and fulfilment in everyday life, this is the section you'll want to keep an eye on.

Finally, this is where you will find the latest articles whenever you visit.
So grab a cup of coffee and have a look around. I can't wait to help make your life a little easier and a lot happier.
If you are interested in more articles that help you take some of the pressure off and allow you to enjoy everyday life more fully, then go ahead and sign up for my newsletter: