If you haven't tried raw red cabbage salad before, now is the time to expand the range of your taste buds' experience! This crunchy and slightly sweet side is the perfect winter salad and will keep you coming back for more.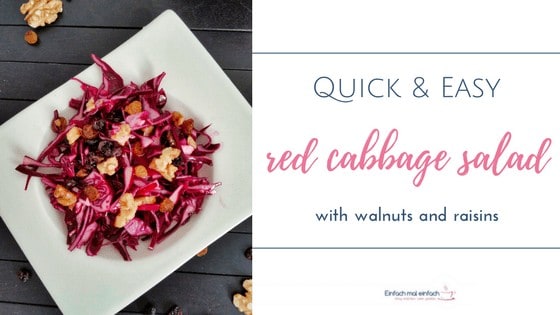 Red cabbage is one of my favourite surprise discoveries so far. Sure, I was familiar with the cooked dish that is frequently seen on German lunch tables, serving as a side for a Sunday feast. We've also used leftover cooked red cabbage in a layered potato casserole topped with meatballs (I know it sounds weird, but it's actually pretty good…). But beyond that, I was at a complete loss about how to use up this big head of red cabbage.
It had found its way into our fridge through our weekly vegetable delivery, similar to the American CSA boxes. Given that the variety of vegetables during winter is not that spectacular around here, it just kept on coming. In this article, I will show you a delicious way of using up extra red cabbage as a raw salad – and it's so good, I have no doubt you might actually go and get it just for the sake of making this salad over and over again.
…