When I grew up, red cabbage came in one form only: from the supermarket shelf, in a glass jar. I had no idea how much I was missing out on, taste-wise. Then a few years ago, I started making my own. Starting out with a traditional german red cabbage recipe, I developed my own version that is easy to make and has that wonderful sour flavor, paired with a hint of sweetness, that makes red cabbage so delicious.
Today, this is our traditional recipe for all the high holidays – Christmas, Easter, and October 3rd (our national holiday, or "German Thanksgiving", as our family likes to call it). Not only is it a pretty easy side dish, but it can also be made in advance the day before since it tastes even better the next day.
A few twists
I like to do things a little differently and introduce new flavors, so one of the things I've done is use only a little apple cider vinegar and none of the traditionally used brown sugar. Instead, I use half a cup of redcurrant jam (made from our own redcurrants) for an extra tangy, fruity flavor. Any other jam that is not too sweet and doesn't have seeds in it can also be used. Alternatively, balsamic vinegar also delivers both sweetness and acidity. I also like to use sweet apples that are slightly mealy, rather than the granny smiths that many recipes suggest.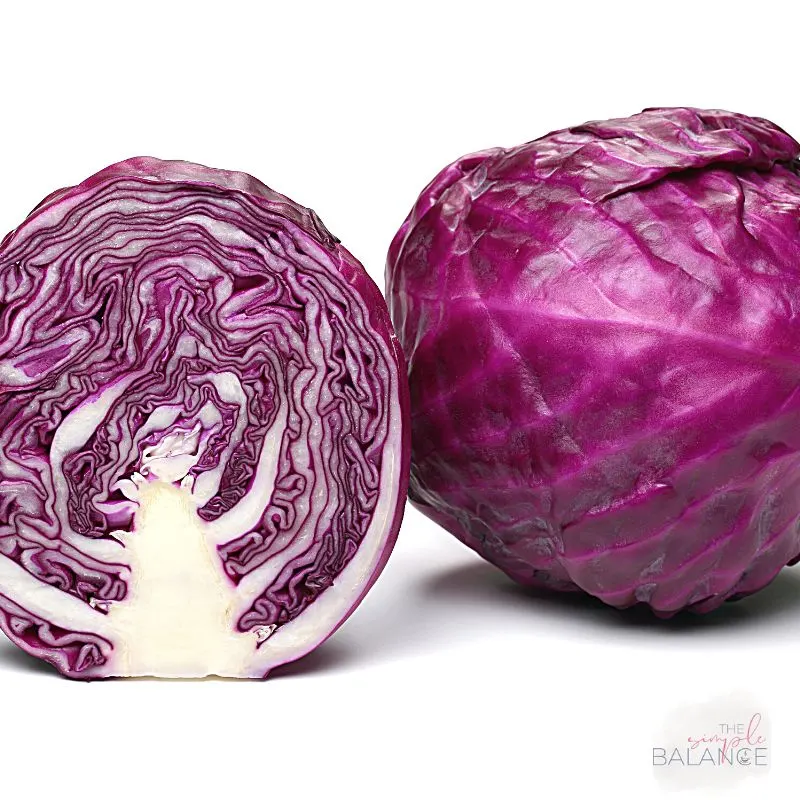 Let's talk about color
I must admit I'm easily confused about colors. My wife and I have frequent arguments about the color of a particular item – usually, I will call it blue and she'll say it's green or something like that. That's probably because men and women perceive colors differently. But there are also different names for red cabbage – and there is a good reason for that.
Depending on the level of acidity, red cabbage can also be blue cabbage or purple cabbage. Actually, purple is the natural color of red cabbage. Sour red cabbage turns red. Make it more alkaline and it will turn blue. So even by just looking at the color, it's possible to see if adding some more vinegar might be a good idea.
The basic recipe
Details can be found in the recipe card below, but here's a brief description. Since red cabbages come in many different sizes, I'm going to assume you have a medium-size one. Remove the outer leaves (they are usually a bit dry and leather-like) and cut the cabbage into 8 – 10 pieces, in the process also removing the white stem bit.
Now cut those pieces into slices on the kitchen grater – it's easiest if you have a food processor with a grating attachment. Don't worry, you won't end up with slices, since they will fall apart into smaller bits. Peel two tart apples, remove the core and cut them into small chunks.
Melt two to three tablespoons of lard or clarified butter in a large pot (it should be large enough to hold all the red cabbage and ideally it should have a lid as well). A large dutch oven will work as well. When the lard is melted, add the red cabbage and apples and start stirring right away. Cook/fry at high heat for five minutes, stirring the entire time. This is the most exhausting part of the recipe…
After five minutes, add a mixture of two cups of water, a quarter cup of white or red wine vinegar, and a tablespoon of salt. Peel two onions and to each of them, attach a bay leaf with two to three whole cloves stuck through them. Add the onions to the red cabbage and throw in 4-5 juniper berries. Stir once more, reduce the heat, put on a lid, and cook for 20 minutes on medium heat.
Now it's time to remove the onions and the attached bay leaves – if you can find them, remove the juniper berries as well. Add half a cup of redcurrant jam and stir it in well. Season to taste with salt and black pepper and if needed, add some more vinegar to achieve the perfect balance of sweet and sour cabbage.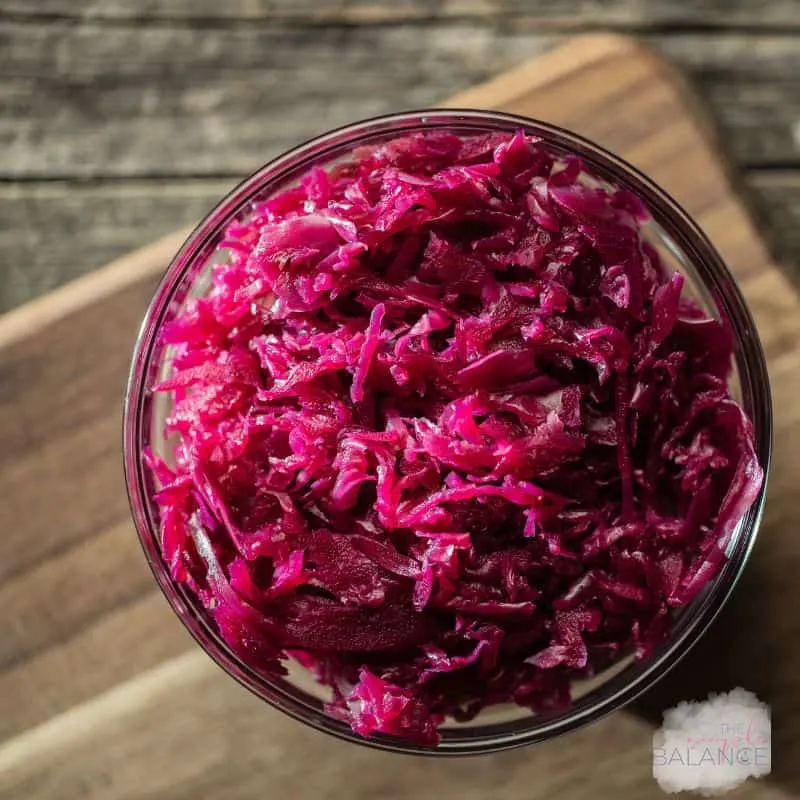 Serving it
This traditional german red cabbage recipe is the perfect side dish for roast goose or turkey, but it also is a perfect accompaniment for game meats. It's often paired with potato dumplings as a very classic combination of sides. Adding a little bit of the meaty gravy over it is a great way to eat it.
Leftovers
If you are preparing this recipe for the first time, you will be surprised how much the red cabbage shrinks down when it's being cooked. But still, unless you are feeding a family of 20, you will probably have leftovers. The best way to keep them is in an airtight container. Some would say this great side dish tastes even better the next day when it's been reheated on low heat. On the first day, the red cabbage still has a bit of a bite, but after warming it up it can become a lot softer.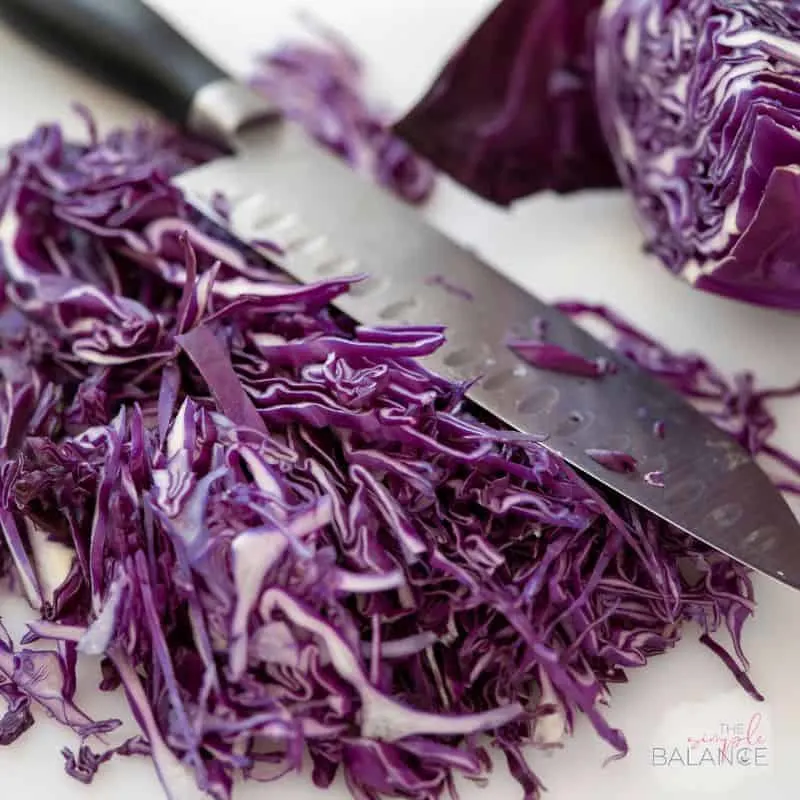 Leftovers can also be frozen – I like to just fill a ziplock freezer bag with the leftover red cabbage, Zip it almost closed, flatten and push the air out of the bag before fully closing it and then freeze as a flat bag. That way it unfreezes more quickly and also doesn't take up as much room in the freezer.
And if you want to avoid leftovers altogether, you can of course keep some of the raw cabbage back and only cook the amount you're going to need. The rest of the shredded cabbage can be turned into a delicious raw salad.