Pizza is one of those things that is a staple in our family. And since we're not into having takeout meals all the time, homemade is the way to go. But for a long time, our favorite pizza dough took a very long time to prepare – too long for a spontaneous pizza night. This quick dough however is ready in 10 minutes, easy to handle and can even be enhanced with extra nutrients. It also works well for quick bread sticks and other snacks.
Every now and then, it's just one of those days. A somewhat chaotic start to the day, struggling to have all kids off to school on time. Concentrated and sometimes a bit frustrating work hours until the kids come back home. Help with homework, driving the kids to activities, playtime in the garden – and all of a sudden it's dinnertime.
And of course I forgot to prepare the dough for the pizza we were planning to have… what now? A quick trip to the store to buy frozen pizzas? Switch to pasta with tomato sauce instead? From now on, there's a perfect solution for those moment!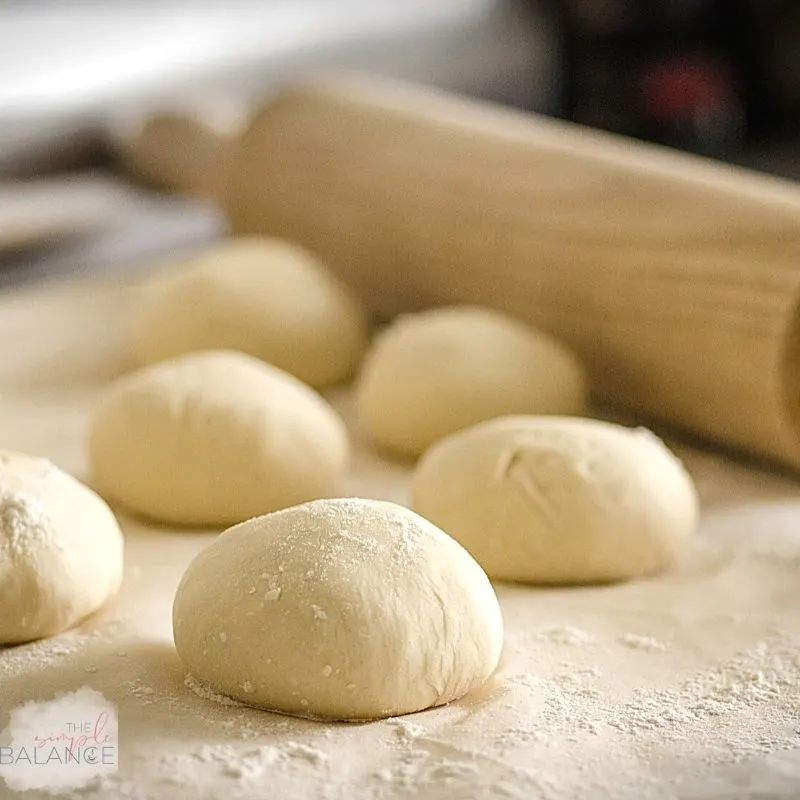 Quick pizza dough
When I was doing some research for one of my bread/dough books (so far only available through my German blog), I realized that one thing that was missing from it was an alternative to ready-made pizza dough from the chilled foods section.
My favorite pizza dough takes at least an hour (unless I have one of my beloved fridge doughs ready, which I'm going to write about in one of my next posts). So I decided to adjust a flatbread dough I already used a lot, to make it even quicker.
Fresh pizza dough in just 10 minutes
With a little bit of research I discovered that a little bit of kneading (which I usually try to avoid – call me lazy if you want) really speeds up the process. the result is a wonderful pizza dough that's easy to use and ready for the toppings in just 10 minutes.
Sure, nothing beats a classic pizza dough that's been kneaded for a long time and allowed to rise for longer. But if what you're looking for is a quick alternative to chilled ready-made pizza dough, then this one's for you.
It can be made by hand, using a hand mixer or a food processor
It rises while you're preheating the oven and preparing the toppings
It's very easy to use
The crust is crunchy and stable enough to hold its own weight (so the pizza is finger food, as it should be – no utensils required)
Pizza dough with hidden nutrients
This dough is also perfect for hiding all sorts of healthy green nutrients. How? Just add a heaped tablespoon of green superfood powder to the flour.
No products found.
The green nutrients have virtually no impact on taste and the only thing you'll notice is a very slight green hue. After baking, it's hardly noticeable. So if you'd like to improve your family's nutrient intake, why not give it a try?
Topping and baking the quick pizza
I suggest you use this best pizza sauce recipe as the basis of your toppings. it's delicious and quick to make.
You can use any toppings you fancy. I love pizza with arugula, olives and feta cheese. Or just some wild garlic butter and cheese as a flatbread, which goes extremely well with a tomato soup.
For best results, use a high temperature in the oven. If your oven has a pizza setting, that's the one to use. Otherwise, 440 – 480°F (230-250°C) are a good choice. Find out what works best in your oven.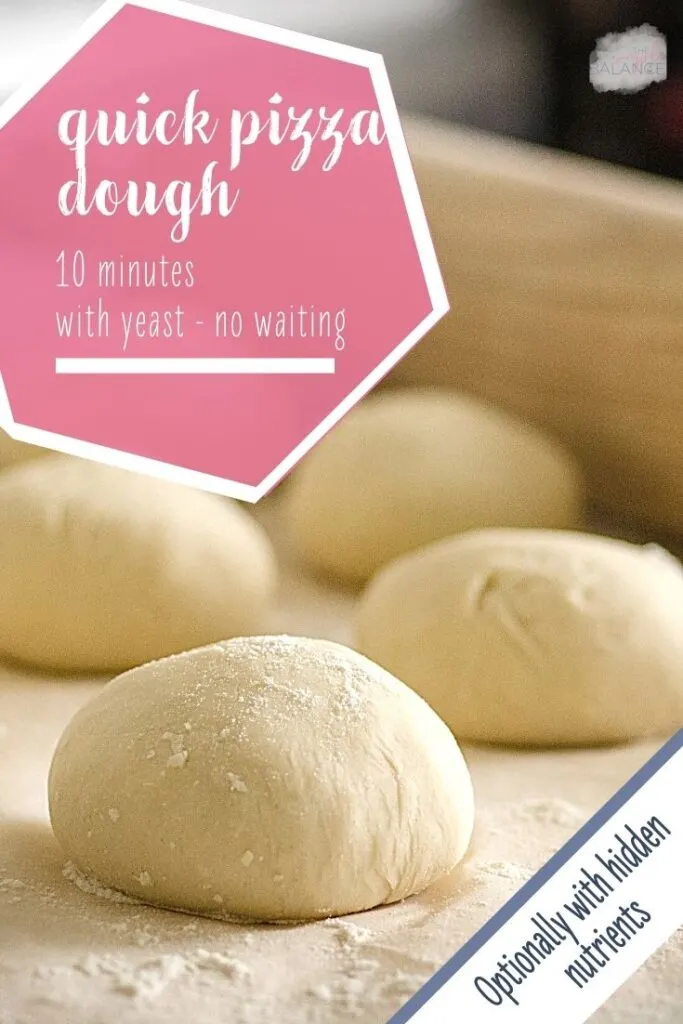 Quick pizza dough for more than one meal
This dough is very versatile and can be used for much more than just pizza. For example, you could also try:
bread sticks to have with a salad
pigs in a blanket as a party food
flatbread made in a frying pan or on the grill
It's also easy to simply halve the recipe. However, since I'm a big fan of doing the work once and benefitting multiple times, I like to freeze any remaining dough. That way, next time it's even quicker.
For freezing, I like to use reusable silicone freezer bags. They are more environmentally friendly than single use bags and also easy to handle when freezing doughs.
No products found.