If you haven't tried raw red cabbage slaw before, now is the time to do so! This crunchy and slightly sweet side is perfect during the winter and will keep you coming back for more.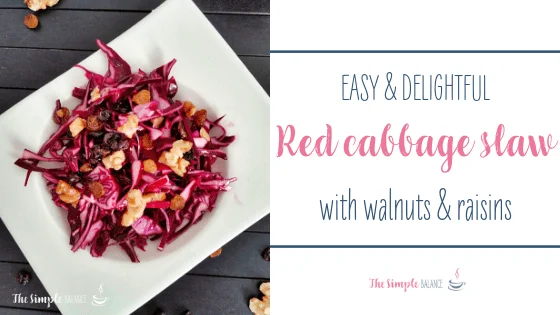 Red cabbage is one of my favourite surprise discoveries so far. Sure, I was familiar with the cooked dish that is frequently seen on German lunch tables.
But beyond that, I was at a complete loss about how to use up a big head of red cabbage.
In this article, I will show you a delicious way of using up extra red cabbage as a crunchy red cabbage slaw. Mixed with delicious walnuts and sweet raisins, it'll keep you coming back for more.
Red cabbage slaw
The original recipe recommends blue cheese as a topping. But so far, I haven't been brave enough to even buy it. Hence, my recommendation is making this recipe without the cheese.
But if you would really like to up the protein in this crunchy and delightful slaw then feta cheese is a great option. Or blue cheese, if you like it.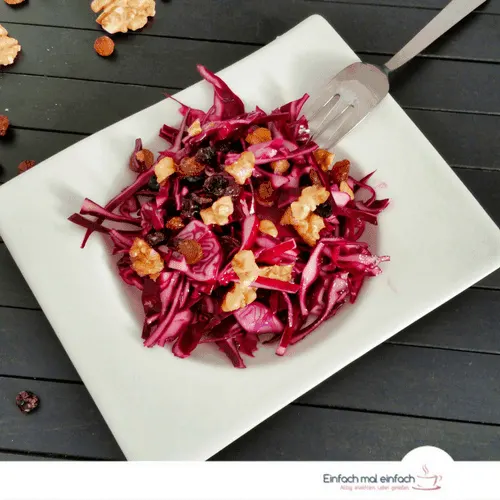 This beautiful salad with its vibrant colors keeps really well for quite a few days, even when mixed with the dressing. My husband feels it actually gets better after a few days.
Red cabbage slaw in a jar
You can easily turn this recipe into a salad in a jar: Add a quarter of the dressing ingredients to each four 16-oz, wide-mouth mason jars. Now add the raisins and walnuts. Finally, fill up the jar with shredded red cabbage. If you like, top with blue cheese or feta.
Now you have a quick grab-n-go lunch sitting in your fridge, ready to take to work. Just shake it vigorously for a minute to mix up the ingredients and lunch is served.
However, this slaw gets even better once it had a chance to sit and marinate for a while. So you might as well mix up a big batch (minus the optional cheese) and then divide it up between your jars. Add the cheese as a separate topping to extend its life in the fridge.
You might also enjoy:
Massaged kale salad with apples & cranberries
The Simple Balance Tip
If your food processor comes with a blade for thin slices, shred the entire head of cabbage in one go. Packed into resealable freezer bags, this shredded cabbage will keep for a few days.
Use it to whip up a single portion of this crisp and delightful slaw. Or just add a handful of the colorful shreds to any other salad you prepare.
There are, however, seasons in life when there's no energy left for that sort of undertaking. In this case, buy pre-shredded red cabbage. And enjoy the fact that someone else made a living by shredding it for you.
Either way, if you are looking for a break from your regular side dishes and good old green salads, go ahead and give this beautiful slaw a shot.
I promise you won't regret it.
Are you interested in more articles that aim to help you take some of the pressure off of everyday life and be able to enjoy it more fully? Then go ahead and sign up for my newsletter:
Ready to get more balance into your life? Sign up for my newsletter and gain access to my soon-to-be growing VIP area!