One way to reduce the mental and physical load during the Christmas season is preparing Christmas cookies in September. In this post, I'll show you how to prepare Christmas cookies in September for more calm in December.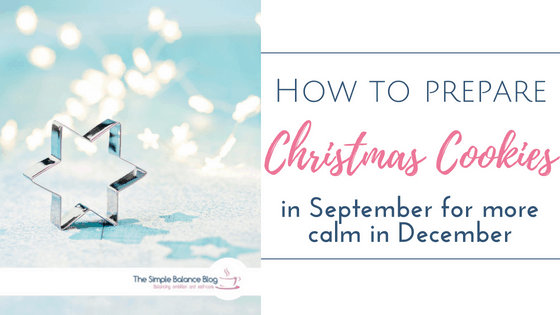 Trying to bake Christmas cookies has been quite a source of stress for me. Frankly, I can't handle the never-ending bits of dough which have to be rolled out over and over and still only offer enough room to cut another 2½ cookies… So, for a few years, I skipped it altogether, but not without a pinch of regret, I might add.
Because who doesn't dream of blissful cookie baking with the kids, while merrily singing Christmas songs with a sprinkle of picturesque snow in the background. While this dream might be unattainable in its perfection, there are ways to bake cookies in time for Christmas without getting stressed.
Cookie baking in the fall
Cookie dough is usually a shortcrust dough which, after assembling has to be cooled again before any next steps. This part of baking chemistry allows you to move part of the baking process out of the Christmas season. Any cookie dough that requires cooling & resting for 30 minutes or longer can usually be frozen for a few weeks. Therefore, there's no reason why you couldn't prepare your Christmas cookies in autumn!
Since different types of cookies require a slightly different approach, here are a few guidelines so you can apply this to your batch of chosen Christmas cookies:
Cookies baked from dough balls
Prepare the dough according to the recipe and use an ice-cream scoop to form dough balls. Place them on a lined baking tray or inside a lined casserole dish. There's no need for much room between the dough balls. Cover the sheet with cling film and place it in the freezer. After about 2 hours you can move the frozen dough balls into a labeled freezer bag.
For baking, defrost the balls on a baking tray in the fridge. Alternatively, you can bake them straight from the freezer, just add about 2-3 minutes to their baking time. If you're trying out a new recipe, I recommend thawing the dough completely before baking so you know what the result should look like. Some cookies don't bake well from frozen while it makes no difference in others.
Slice and bake cookies
The dough is formed into a thick log and then frozen. Once frozen, place the logs in a labeled freezer bag, ideally with a note about required baking time and temperature. To bake, cut any number of cookies from the frozen log of dough in slices of approximately 1/4 inch (1/2 cm) and place them on the baking tray. Or you can thaw the logs overnight in your fridge and bake them over the course of the next three days.
You might be interested in this:
Slice and bake cookies – 7 flavors with hidden nutrients
Cutout cookies or biscuits
Depending on the instructions in the recipe, shape the dough into a ball or disk, wrap it in cling film and freeze it after cooling. Once frozen, place it in a labeled freezer bag. To make life even easier for your future self,  make a note of the type of cookie and the further procedure (e.g. "Allow to defrost overnight in the fridge, roll out 1/4 inch thick, cut out and bake at 180°C/350°F for 10 min").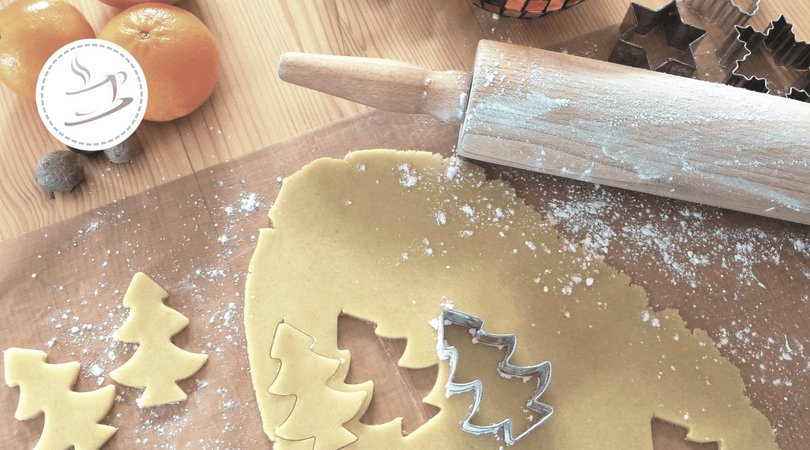 Recipes that cannot be prepared in advance
Any delicate cookies that have to keep their shape or follow complicated procedures shouldn't be prepped ahead of time. This method is also not suitable for cookie doughs containing beaten egg-whites. If you're not sure whether your desired recipe will allow you to prepare the dough ahead of time, rather err on the side of caution. You could, however, take a small part of the dough whenever you're baking cookies anyway and test what happens when freezing and baking later. That way, you only risk failure for a small portion of the dough but you will gain new insights for future baking adventures.
Baking cookies for Christmas
As soon as the season is in full swing, the most labor-intensive part of baking cookies is already a thing of the past. Now you're prepared to bake a stack of cookies for the office Christmas party at short notice. Or you can quickly rustle up a sign of appreciation for your neighbors. And you might even have the energy to bake those cutout cookies with the kids on a snowy afternoon, making some almost picture-perfect memories.
For me, the threshold to bake cookies for Christmas is significantly lower once the dough is prepared. Furthermore, it might even leave room for more elaborate decorating or a greater variety of Christmas cookies.
If you cover and pack your dough well, three months in the freezer should not be a problem. I know it sounds ridiculous but that means you could start prepping for Christmas in September. Oh, and no need to go for a full day of preparations. I mean, you could do that and be done with it. But if you only have a few minutes here and there, go for a few simple cookie recipes, prepping one each week.
The simple balance tip
If you're in the throes of motherhood with little ones all over the place, leave the more elaborate recipes sitting on your Pinterest board for those years when the kids have left for college. And if there is rarely a minute for yourself, don't spend those few minutes on making dough. Sit down with a cup of coffee, breath, relax for a couple minutes – and get store-bought dough for baking.
And if you should skip baking Christmas cookies with your kids altogether – they will grow up just as fine. I suspect they might even be happier without this memory because their mom spent a few minutes recalibrating rather than trying to do everything as a frantic mess. So be brave and skip it in favor of a quiet cup of tea by the fireplace, listening to your favorite Christmas song.
But if you itch to bake but find it extremely stressful during the Christmas season, try this method and see what it does to your Christmas season experience. I'm sure you won't regret it.
If you are interested in more articles that help you take some of the pressure off and allow you to enjoy everyday life more fully, then go ahead and sign up for my newsletter:
To hear about new posts and find out more about me, follow me on Social Media: