If you love shortcuts when baking, then these slice and bake pinwheel cookies will inspire you! In this article, I will show you four easy flavors which will prepare you for any cookie emergency.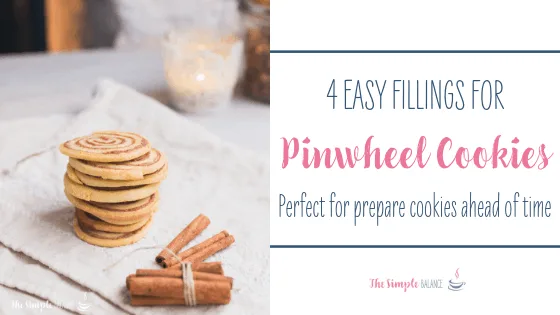 Stress free cookie baking
Perhaps you already know my favorite shortcut for less stress during the Christmas season. As long as our three children are still at kindergarten and primary school age, Christmas baking is largely limited to slice and bake cookies.
I simply don't have the energy for intricate cutout cookies and never-ending leftover dough bits… However, there is an unbelievable variety of slice and bake cookies and they are so easy to prepare! I try to prep and freeze them ahead of time until Christmas baking season rolls around.
Quick pinwheel cookies
So it was only a matter of time before I had to apply this principle to pinwheel cookies. And tadaa! The abundance of different cookie dough logs got extended by four more recipes. Not to mention their eye-catching looks.
One thing I really like is not having a huge Christmas cookie jar sitting around for weeks. Instead, we just quickly bake a new load directly from the freezer whenever the cookie mood strikes.
Four versions of pinwheel cookies
The basic cookie dough is the same as in my first slice & bake cookie recipe. But instead of forming it into a roll, it's rolled out into a rectangle and topped with a filling of your choice.
Inspired by some of the many slice and bake cookie recipes, I recommend the following fillings:
coconut chocolate
pistachio marzipan
strawberry jam
cinnamon sugar
Coconut-chocolate pinwheels
With this version, I first created a simple ganache inspired by this recipe. Don't let the word scare you away – if you can melt chocolate chips and mix in cream, then ganache is no problem either.
Extra tip: Pour hot water into your slow cooker or Instant Pot (about 1.5 inch deep). Add the chopped chocolate or chocolate chips to a heat-resistant jar and place it in the hot water. At the lowest slow cooker setting, the chocolate melts gently. Just make sure that no tiny water drops get into the chocolate.
Then mix the melted chocolate with warm coconut milk (or cream) and coconut flakes. After a few hours in the fridge, the ganache is spreadable. Unless you are of the impatient or last-minute type, in which care 30-60 minutes in the freezer will do the trick… 😉
Pistachio-marzipan pinwheels
For this filling, add marzipan and pistachios to a food processor and process until finely ground. For an extra burst of green color, I added a little green smoothie powder, but don't worry – nobody will be able to taste wheatgrass, spirulina or spinach!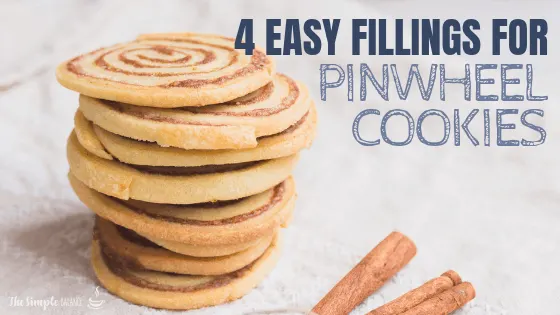 Jam pinwheel recipe
The simplest of all the four fillings is your favorite jam. This can be homemade or store-bought – whatever you like to eat (or needs to be used up) is great for this.
If the jam is very firm, stir it with a spoon or even a hand-held blender until smooth. This will make it much easier to spread on the fragile dough.
Since I used too much jam on my first attempt and the rolling turned into a real mess, I decided to use an extra crust:
After cooling the rolled up cookie log, I brushed the entire roll with jam and then covered it with granola. Again, this is a great way to use up small leftover amounts or a granola that nobody likes on its own. These turned out to be the biggest hit with my family. We love the crunch coming from the granola crust and the fruity gooeyness of jam after it's been baked!
Cinnamon sugar pinwheel cookies
For this very simple variation, simply spread melted butter on the rolled out dough and sprinkle a mixture of brown sugar and cinnamon evenly all the way to the edges.
You could also add a cinnamon crust to this version once it had a chance to cool: Brush an egg white on all sides of the cookie dough log and then roll it in the same cinnamon-sugar mixture. Gently press the mixture onto the log until evenly coated and then either bake or freeze.
Baking pinwheel cookies quickly and easily
As soon as the cookie logs had an opportunity to chill for about an hour, they are ready for baking or freezing.
To bake, simply cut 1 cm thick slices from the dough and bake in a preheated oven for 12-15 minutes. If you are in real cookie emergency and must have baked cookies within 15 minutes, try one of these tricks:
#1 Baking in a waffle iron
Place cookie dough in the hot waffle iron, one slice in each section, and bake until the light turns green. They may still be very soft and can best be removed with a spatula. Once cooled, they will be firm and crispy.
With this quick baking method, the pinwheel pattern transforms into a beautiful marbled pattern. If you have a waffle iron for Belgian waffles, I recommend that you stick two slices together in the shape of an 8 before baking.
#2 Baking in the airfryer
If your kitchen, like mine, has a weak spot for modern devices, an Airfryer may have found its way into your kitchen. And these are great for quickly baking a batch of cookies, too! Depending on the model, you may need to remove the turning device to ensure that your cookies remain undisturbed diring baking.
The advantage is that there's no preheating time and because of the small space, much less electricity is needed. This method is particularly suitable for smaller quantities. I recommend that you watch them when you use this method for the first time, so you'll get a sense for how long it takes in your Airfryer model. As soon as the edges show a slight browning, the cookies can be removed and left for cooling.
My simple balance tip
Use ready-made sugar cookie dough if you are short on time or energy. This is also a great way to use up the remaining dough after you spent and afternoon of baking cut-out cookies with your kids.
Make yummy pinwheel cookies
I hope I was able to show you, that with a few tricks, life can be organized in a way that it doesn't look like you made use of shortcuts. That's how I feel with these cookies. They pretend to be the result of a long, hard day in the kitchen and are done with 30-60 minutes of working time.
If you then serve warm, fresh cookies to your unannounced guests in the middle of Christmas season – and without spending any time in the kitchen – then it may just feel like you've got this life thing all figured out… 😉 Try it!