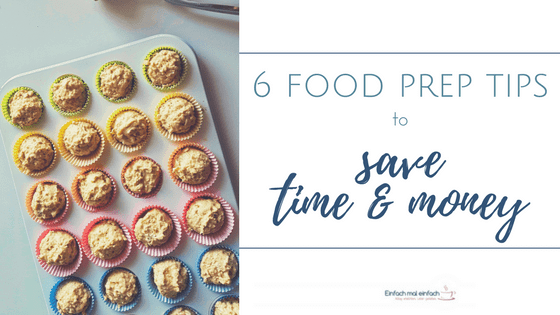 I'm a sucker for little life hacks that seem like nothing but make a huge difference in everyday life. Especially if they save time or money – ideally even both. So I collected some of the tips that I'm using on a regular basis that help achieve one or the other. They might seem neglectable at first, but if used at the right time, these tips can develop into little rays of sunlight:
Causing you to smile because in that moment life just got a little less "floopy". You sense the little drop of oil that helps life run more smoothly. You feel a moment of happiness because you skillfully navigated yet another potentially frustrating everyday occurrence. Whatever it may feel like for you, these life hacks definitely achieve the aim of this blog, which is making everyday life just a little easier so it can be enjoyed a lot more.
#1 Reviving stale bread rolls
Bread rolls, muffins, baguettes and other baked goods are usually past their prime a day or two after you made or purchased them. While there are wonderful ways to use dry bread or stale muffins as part of a new creation, the quickest solution is giving them a second chance. Simply place your roll or muffin in your microwave for 5-15 seconds and they will be restored to old glory for the next 15 minutes or so. More dense foods like muffins will need longer (up to 20-30 seconds) than a light bread roll or piece of baguette.
If it is really dry, loosely cover it with a damp kitchen towel. The warmth will even recreate a fresh out of the oven feel. You can also use this for frozen rolls or muffins by simply adding another 20-30 seconds.
Warning: Work your way up in 5-second-increments until you have an idea how your microwave works. Ten seconds too long will cause hot and dense spots that are beyond redemption.
#2 Cutting pumpkin
Cutting raw pumpkin is not only quite an ordeal, it also comes with a serious threat to the intactness of your fingers. Whenever a recipe calls for cubed pumpkin, I prefer to soften my pumpkin beforehand either by roasting or steaming pumpkin halves.
Roasting: Carefully cut your pumpkin into halves and remove the seeds. Place on a baking tray cut side up and bake in a 400°F/200°C oven for 20-45 minutes. If your recipe involves further cooking of your pumpkin, then 20 minutes is just enough to have an easier time cutting. If the pumpkin gets added at a later stage, 30-45 minutes depending on the size will get it fork-tender. Allow to cool a bit and then easily remove the skin.
Steaming: A really quick way is steaming pumpkin pieces in an electric pressure cooker. Simply pour a cup of water in the bottom of the pot and add the grid with the pumpkin pieces on top. Close the lid and cook on high pressure for about 12 minutes. Depending on the size you might be able to fit an entire pumpkin with just the stem removed.
The cooked pumpkin can now be used in countless recipes for jams, soups and salads or turned into puree for baby food or any recipe that requires pumpkin puree. I love doing this 1 or 2 days in advance, while I've got a hot oven anyway or have my Instant Pot take care of things while I'm working.
#3 Cutting melons
We used to cut watermelon into wedges until I learned this trick to cut it into sticks instead. Not only does it reduce the mess in every eater's face, the melon is also much easier to eat. Even when I need watermelon for a recipe, I find it easiest to cut cubes from sticks. The time-saving mainly applies to less cleanup required but it's been a game changer in our home nonetheless.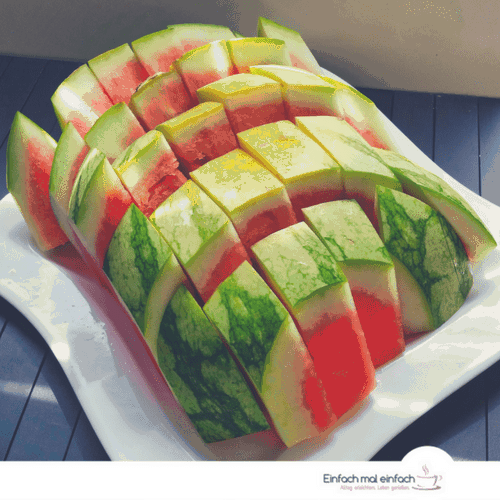 #4 Keeping potatoes from sprouting
There are two major aspects of keeping your potatoes from developing those unsightly sprouts. Keeping them in a dark, cool place and separate from onions and garlic is part one but I find it hard to put into practice. I just don't have that many suitable storage places. Enter, the second trick: Place an apple with your potatoes. The apple's ripening gas prevents the potatoes from sprouting and keeps them fresh longer. It will shrink and shrivel over time and needs to be replaced at some point. But it can still be turned into applesauce or added to a smoothie.
#5 DIY Disinfectant wash for fruits and vegetables
I'm not usually paranoid about germs as I believe they are, for the most part, important for a healthy immune system. So in general, rinsing fruits and vegetables under clear, running water is going to be enough. But if you share your home with people whose immune system is not fully developed yet or compromised in some way (elderly, pregnant women, infants or people undergoing chemotherapy), using the following tip is a good idea, especially when there are some scary bugs reported in the news.
Instead of buying commercial disinfectant for fresh produce, simply put them in a sink full of water with a generous splash of vinegar added. The vinegar can even win a fight with salmonella and e.coli so this is an easy and inexpensive way to protect your loved ones with a compromised immune system. Another option is baking soda – simply add a teaspoon of baking soda per quart of water and your fruits and vegetables are squeaky clean.
#6 Even-sized cookies and muffins
For satisfactory results, cookies or muffins should have roughly the same size when baking. Otherwise, the small sized ones get burned or dry out while the larger ones are still raw on the inside. But I cannot be bothered to use a scale or scrape sticky batter out of measuring cups. The most time efficient way to make sure your muffins are even-sized is using an ice cream scoop with a release mechanism. Simply scoop up and level the batter by pulling the ice cream scoop up along the inside of the bowl and then release the portion over a muffin liner or the baking tray. I also use this method to freeze cookie dough balls or for making cake pops.
---
I love these life hacks for their sheer simplicity. I hope at least one of them will make your life easier and brighten your day with an extra smile. I can't wait to hear which one is your favorite – I think mine is #1!
If you are interested in more articles that help you take some of the pressure off and allow you to enjoy everyday life more fully, then go ahead and sign up for my newsletter: