You are going to love these freezer tips as they will not only save money but make your life easier as well. From freezing grapes as a healthy snack to freezing cheese – you'll never look back once you tried them!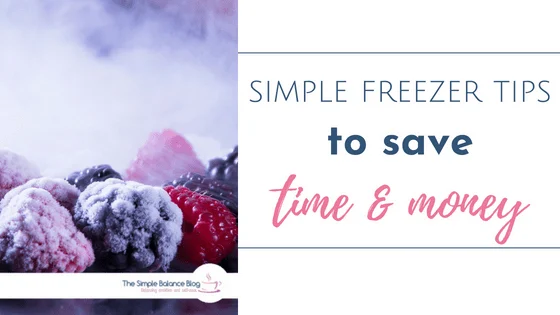 I could not be more grateful for living in today's world. In this article, I am going to show you freezer tips that reduce food waste and save money. And as a pleasant side effect, they're also going to make your life easier.
#1 Freezer tip for cheese
Need just a few tablespoons of grated parmesan? To avoid reaching in the fridge only to find moldy cheese, consider this freezer tip:
Simply place the bag of grated parmesan cheese in the freezer. Hard cheese like parmesan doesn't freeze solid. So you can still scoop it out with a spoon whenever you need even just a sprinkle.
If you grate your own parmesan, place the grated cheese in a ziplock bag.
Note: This won't work for softer cheeses like gouda or mozzarella. They stick and don't thaw well.
#2 Freezing berries to save time
How do you preserve fresh fruit and berries? In Germany, this is traditionally done as jams, jellies, and marmalades. Or compotes.
But I'm not the biggest fan of cooked fruit so I prefer the second form of preservation – freezing. And it's less effort, too!
Wash and dry your fresh berries.
Place them in a single layer on a rimmed baking sheet that fits into your freezer.
Freeze for 2-3 hours.
Transferring to a ziplock bag.
I love using a silicone baking mat for this purpose: It's non-stick and easy to transfer.
I use these frozen berries in smoothies and oatmeal. Or for baking. Or in desserts.
Note: I've also successfully frozen apple slices or peach wedges with this method.
#3 Frozen grapes as a healthy snack
Frozen grapes are the perfect refreshment on a hot summer day. Simply use the same method as described in #2.
They are sweet enough to still be delicious when frozen. They are flavorful and inexpensive. And they're much less work than homemade popsicles. Light and cooling, they pack more nutrients than chewing on ice chips.
What's more, they make a great ice cube substitute to cool any beverages or drinks. So even plain water receives a major upgrade with frozen fruit… – And it might just be the way to get your kids to drink plenty of fluids in hot weather.
#4 Freezer tip for chopped onions
Sure, you can buy frozen diced onions. But at least over here in Europe, packages ridiculously small and expensive. I'm so glad Pinterest introduced me to the concept of making frozen chopped onions at home. It doesn't take much more effort but you'll reap the benefits for months.
Instead of peeling and chopping just one onion, why not work through the entire bag? Clean up of cutting boards and other equipment is only happening once.
Note: Use your food processor to quickly chop onions with a few pulses. However, if you have a powerful model, this will leave you with mush… In that case, get a dicer chopper box and quickly work through your batch.
Then:
Placed on a rimmed baking sheet in a layer no higher than half an inch. (Line with parchment paper or use a silicone mat.)
Freeze for 2-3 hours.
Using a spatula, separate the onion dice and transfer into a ziplock bag.
Whenever a recipe calls for diced onions, simply retrieve the necessary amount with a cup measure and use as if they were fresh.
#5 Freezing DIY vegetable paste
One of my secret weapons in the kitchen is this homemade vegetable stock paste. It's a nutrient-rich substitute for commercial stock powders, cubes, and granules. Also, much easier to make than the dried homemade versions. And not blocking as much freezer space as vegetable stock.
The ultimate time and money saving tip: Make a big batch of this paste which will for at least 6-10 months. And then freeze it! The high salt content keeps the paste from freezing solid. Once frozen, just scoop out however much you need.
If you haven't tried cooking with this paste, you should do so immediately! It's an absolute game changer.
---
These methods are a very simple way of saving time and money using your freezer. And make your life easier. And help keep your sanity.
Let me know which one you like best!
Ready to get more balance into your life? Sign up for my newsletter and gain access to my soon-to-be growing VIP area!