You are going to love these freezer hacks as they will not only save money but make your life easier as well. From freezing grapes as a healthy snack to freezing onions, berries and cheese – you'll never look back once you tried them!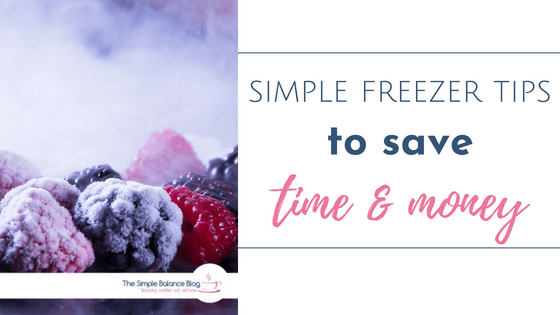 I could not be more grateful for living in today's world. This gratitude wells up in me whenever I think of people's living conditions just one century ago. And not having a fridge or freezer available certainly seems like one of the smallest issues. Those wonderful inventions have massively extended the time foods can be kept at home. In this article, I am going to show you, how you can use these modern contraptions not only to reduce food waste but also to save a few bucks. Oh, and as a side effect, they are going to make your life easier as well…
#1 Freezing cheese tip
Many recipes call for just a few tablespoons of grated parmesan. And that's why I easily lose track of exactly how long the open bag of cheese has been sitting in the fridge. More than once did I find myself in a pickle because my dish just needed the finishing touches but the grated parmesan had gotten moldy.
To avoid that, simply place the bag of grated parmesan cheese in the freezer. Hard cheese like parmesan doesn't freeze solid and can still be scooped out with a spoon whenever you need even just a sprinkle. Most bags come with a seal but your's doesn't or you grated it yourself, just put the cheese in a ziplock bag. This doesn't work for softer cheeses like gouda or mozzarella, though, as they stick and don't thaw well.
#2 Freezing berries to save time
When fresh berries are in season and abundant, the traditional thing to do is preserving them as jams, jellies and marmalades. Or make pie filling. Or compotes, the most common form of preserving berries over here in Germany. But to have them available for smoothies and porridge all winter long, I prefer the second form of preservation – freezing. And it's much quicker, too!
Wash and dry your fresh berries and place them in a single layer on a rimmed baking sheet that fits into your freezer. You can get away with two layers but more than that and you'll be left with frozen berry chunks. Very fragile fruit like raspberries should not even have a second layer while freezing for 2-3 hours. By using the layer method, it's easy to separate the frozen goodness into individual berries before transferring them to a ziplock bag.
I love using a silicone baking mat for this purpose, simply because nothing sticks and berries are super easy to transfer. Using this same method, I've also successfully frozen apple slices or peach wedges to have them on hand for a spur of the moment baking spree. Or to change up our smoothie routine.
#3 Frozen grapes as a healthy snack
When summer's temperatures make us head for the pool, light refreshments are always appreciated, aren't they? I mean, there's only so much ice cream you can eat in a day. One giant surprise in this department are frozen grapes. So much so, that they have become one of my favorite summer snacks for those days when it's too much effort to hold up a popsicle.
They are sweet enough to still be delicious when frozen and our tongues have a harder time tasting sweetness. They are flavorful and inexpensive – and MUCH less work than making homemade popsicles. They are light and cooling when real ice cream would be too rich and yet pack more nutrients than chewing on ice chips.
You freeze them following the procedure I explained above. In addition, grapes (as well as other frozen berries) make a great ice cube substitute to cool any beverages or drinks. So even plain water receives a major upgrade with frozen fruit – and it might just be the way to get your kids to drink plenty of fluids in hot weather… 😉
#4 How to freeze onions to save time and money
Of course, you can buy frozen diced onions. But at least over here in Europe, packages ridiculously small and expensive. I'm so glad Pinterest introduced me to the concept of making frozen chopped onions at home. It doesn't take much more effort than your regular onion dicing food prep but you'll reap the benefits for months every single time you need to cook.
Instead of peeling and chopping just one onion, why not work through the entire pack? That way, you need to maneuver those peels into your trash only once instead of losing a piece of peel on your way every single time. Also, clean up of cutting boards and other equipment is only happening once.
Instructions:
My favorite way of preparing onions for freezing used to be chopping them up with a food processor. Until I upgraded to a stronger model and was left with onion mush… Now I've got one of those handy little dicer chopper thingies and I love how evenly and quickly I can work through a big batch of onions. Alternatively, use a manual food processor or simply hit the pulse button a few times on your regular food processor.
The chopped onions are placed on a rimmed baking sheet in a layer no higher than half an inch. Make sure you line your baking tray with parchment paper or a reusable silicone baking mat. After freezing for 2-3 hours, you will have a much easier time separating the onion dice and transferring them into a ziplock bag.
You may need to use a spatula to scrape the frozen chopped onions off the baking tray. If it sticks a little more, don't be afraid to use a little force. I usually transfer bigger chunks into my labeled ziplock bag and then use my fingers to separate them once the bag is closed. Or hit the closed bag on the counter a few times… 😉
Whenever a recipe calls for diced onions, simply retrieve the necessary amount with a cup measure and use as if they were fresh. They thaw so quickly that you won't notice a difference in cooking time.
#5 Freezing DIY vegetable paste
One of my secret weapons in the kitchen is this homemade vegetable stock paste as a substitute for commercial stock powders, cubes and granules. It's much easier to make than the dried homemade version and a freezer space-saving alternative to making your own vegetable stock. The ultimate time and money saving tip is making a big batch of this paste which will keep you covered in the stock department for at least 6-10 months. The high salt content keeps the chopped vegetable in this paste from spoiling, however, I always feel funny about keeping it stored at room temperature.
So instead of worrying that my treasured vegetable stock paste will catch a fungus before I was able to use it up, I freeze it. The salt keeps it from turning into a solid block and so I can just scoop out however much I need. If you haven't tried cooking with this paste, you should do so immediately! It's going to be an absolute game changer!
---
So whether you don't have time to make jam while berries abound or you simply don't mind a few minutes less prep work when making dinner – these methods are sure to make your life easier. And save you money. And sanity. Let me know which one you like best!
If you are interested in more articles that help you take some of the pressure off and allow you to enjoy everyday life more fully, then go ahead and sign up for my newsletter:
To hear about new posts and find out more about me, follow me on Social Media: