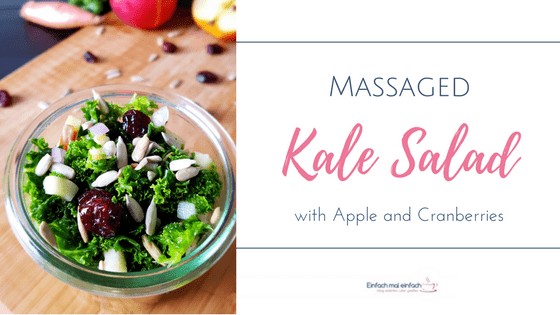 Massaging my kale when I can't even remember the last time I got a massage myself? It seems utterly redundant to give your greens a special treatment at this stage in their life but this one is actually more of a treat for you. If you like the taste of raw kale but never really cared for the scratchiness of its curly variety, then you will love this. In this article, I'll show you how adding the small step of massaging raw kale will transform an otherwise coarse and rough salad into a soft bowl of green happiness. The recipe for this massaged kale salad is simple and easy to follow and – hold on to your seats – actually much loved by at least some of my kids!
I admit that for a while I only wanted to eat kale because it was a so frequently praised as a superfood by many a blogger. But I was also curious about the newfangled way of eating a vegetable that in Germany, is only ever used in a rather oldfashioned dish, cooked with steel-cut oats and looking pretty revolting. So to try it as crispy chips or in a fresh salad seemed like the logical step to take for someone who's always been eager to move beyond traditions.
But as much as I wanted to like it – I really didn't. My then 1-year-old, adventurous first-born happily gobbled up the kale chips experiment but I kept gulping down water to get rid of the dry scratchy bits getting stuck in my throat. So when I first heard about this little trick of massaging kale before using it in a salad, I was all ears.
How to massage raw kale into submission
All you need to do is add salt to your big bowl of curly kale leaves. I prefer to cut or tear them into bite-sized pieces beforehand but larger leaves with just the stem removed would work as well. With the salt added, start kneading the kale with clean hands as if you were dealing with dough. Continue to work it for about 1-2 minutes, taking breaks whenever the muscles in your hands require them.
You will notice that the volume of your kale leaves reduces down to about a third. The simple vinaigrette in this kale salad recipe is delicious as it is but you could certainly use a different dressing that you like. However, because of the salt already added to the salad at this early stage, it is very important to leave out any additional salt when preparing the dressing. Therefore, using a ready-to-go dressing from the shop is not an option with this technique.
If you have considerably less than 20 large kale leaves, start by using only half the salt. You can always add more in 1/4 tsp steps. If you are sensitive and prefer your food on the less salty side of things, then use half the amount of salt with only half of your kale and add more leaves once the first bunch has reduced in volume.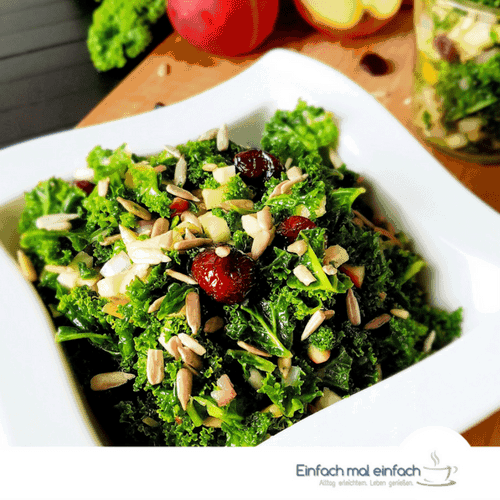 Notes about the massaged kale salad
The original recipe suggests adding gorgonzola cheese which I have never gotten a chance to try. Mainly because my courage to experiment abandoned me whenever I was about to buy it. So if you love blue cheese, definitely give this a shot. Alternatively, some feta cheese would be a nice addition of protein. But we are delighted with this salad as it is.
I used to add honey to the dressing and leave out the shallot so get a slightly sweeter, more fruity salad. If this sounds good to you, go ahead and add a tablespoon of honey to the dressing.
As someone who hated onions as a child, I was reluctant to add raw onion to a salad (I don't usually keep shallots in the house). Yet I am happy to report that adding red onion very finely chopped works just as great as shallots.
You can definitely skip the step of toasting your sunflower seeds if this step would be keeping you from making this massaged kale salad. However, if you have the energy, it will make this salad that much more delightful.
The Simple Balance Tip
In order to save time and energy, buy kale leaves that have the stems removed. It's worth paying someone else to do it if the alternative is to not have it at all. But also, you can live a happy life without eating kale… 😉
So there you have it. Now go and get a big bunch of beautiful curly leave kale and see for yourself, how the step of massaging will transform the resulting salad. Prepare it following the recipe below or start experimenting with the ingredients as I mentioned above. Either way, I'm sure this salad will become a new favourite very quickly. Then let me know how it went by leaving a comment!
If you would like to be notified about new English content, feel free to sign up for my newsletter below:

To hear about new posts and find out more about me, follow me on Social Media:
Perfectly Pinteresting