Looking for a different way to enjoy raw kale without the scratchy mouthfeel? Then this massaged kale salad is for you! A simple technique will transform tough kale leaves into a delightful salad.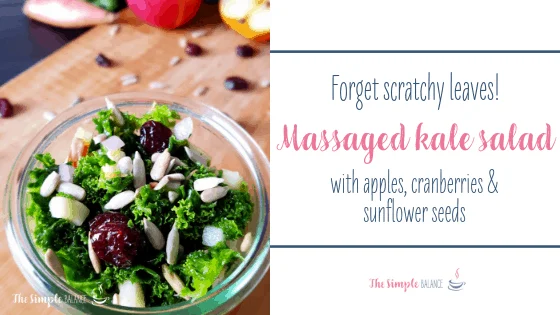 You like the taste of raw kale but don't care for the scratchiness of curly kale? Then you will love this!
The recipe for this massaged kale salad is simple and easy to follow. And actually – you may wanna sit down for this – much loved by some of my kids!
In this article, I'll show you how adding the small step will transform tough leaves into a soft bowl of green happiness.
How to make massaged raw kale salad
With stems removed, cut or tear your kale leaves into bite-sized pieces. Then, add salt to your big bowl of curly kale leaves and get ready for a little workout:
start kneading the kale with clean hands
continue to work it for about 1-2 minutes
take breaks whenever necessary
You'll notice that the volume of your kale leaves reduces down to about a third. And that's when you know your work is done.
Now just add a simple vinaigrette but with one difference:
Leave out the salt!
For this reason, using a ready-to-go dressing from the shop is not an option with this technique.
Adjusting the salt
With less than 20 large kale leaves, start by using only half the salt.
If you are sensitive and prefer your food on the less salty side of things, then use half the amount of salt with only half of your kale and add more leaves once the first bunch has reduced in volume.
Alternatively, add more lettuce and other greens once the kale has been massaged. This will dilute the salt content further.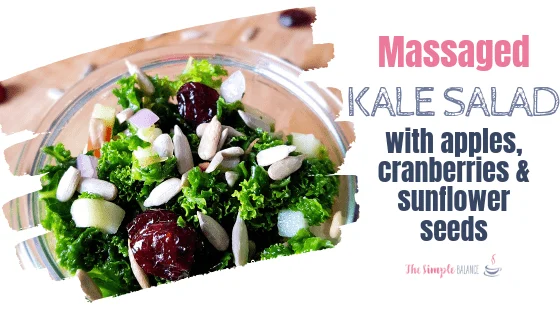 Notes about the massaged kale salad
The original recipe suggests adding gorgonzola cheese which I'm not too keen on. But if you love blue cheese, then definitely give this a shot.
Alternatively, some feta cheese would be a nice addition of protein. But we are delighted with this salad as it is.
You might also enjoy:
Red cabbage slaw with walnuts and raisins
I used to add honey to the dressing and leave out the shallot so get a slightly sweeter, more fruity salad. If this sounds good to you, go ahead and add a tablespoon of honey to the dressing.
Substituting red onion very finely chopped works just as great as shallots.
You can definitely skip the step of toasting your sunflower seeds. However, if you do have the energy, it will make this salad that much more delightful.
The Simple Balance Tip
If you are low on time and energy, buy kale leaves that have the stems removed. It's worth paying someone else to do it if you are thinly stretched.
But also, you can live a happy life without eating kale… 😉
So there you have it. Now go and get a big bunch of beautiful curly kale leaves. And then see for yourself how massaging will transform your salad.
If you love kale, then I'm sure this salad will become a new favorite very quickly.
Ready to get more balance into your life? Sign up for my newsletter and gain access to my soon-to-be growing VIP area!