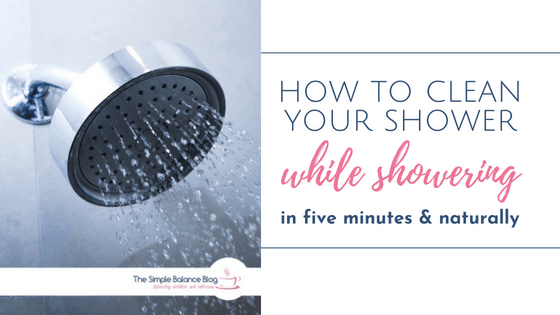 I'm not really into cleaning. Sure, I do get a kick out of a clean room. I might even go as far as saying that I enjoy the physical act of transforming something dirty into something clean. But on the whole, I could live very happily if someone else took care of this for me. Especially with a bunch of little people in the house where it seems that anything clean doesn't stay that way for much longer than a split second. I love this quote on someecards.com: "Cleaning with kids in the house is like brushing your teeth while eating Oreos." In this article, I will show you a super simple hack how you can clean your shower while showering yourself – and all in less than five minutes.
A few years ago, I stumbled upon one of the most life-changing discoveries in terms of cleaning. By using a soap dispensing sponge, filled with a simple DIY cleaning mixture you can safely clean your shower while you're in there anyway. As you are waiting for your conditioner to do its thing, you simply take a minute or two to quickly clean your shower with this sponge. Rinse off before you get your conditioner out and voilá – both you and your shower are sparkling clean.
How it works
Grab one of the soap dispensing sponges or brushes and fill it with equal amounts of dish soap and white vinegar. Then use it to clean your entire shower and/or bathtub. This is what you'll need:
1 soap dispensing sponge or brush
2 Tbsp dish soap
2 Tbsp white vinegar
1-2 drops of your favorite essential oil, e.g. lemon (optional)
Since dish soap is designed to be in contact with skin, it is perfectly safe to use while you are in the shower yourself. This mild cleaning agent combined with vinegar is powerful enough to remove grime and hard water stains. For little nooks and crannies where a sponge is too big to get into, I like to keep a brush around. However, if you want to go all natural, simply replace the dish soap with liquid soap nuts soap.
The Simple Balance Tip
To make refilling even easier, simply use an empty cleaning bottle and label it. Fill it with 1 cup of dish soap and 1 cup of white vinegar and gently mix the two. If you want to, add a few drops of your favorite essential oil.
1 soap dispensing sponge or brush
1 empty cleaning bottle (at least 2 cups capacity)
1 cup dish soap
1 cup white vinegar
10 drops of your favorite essential oil, e.g. lemon (optional)
If using concentrated vinegar, first dilute your concentrate by using 1/3 cup of vinegar concentrate with 2/3 cup of water. For a single handle filling, use 2 tsp of vinegar concentrate and 4 tsp of water.
Keep this bottle out of reach of children and refill the handle of your sponge about halfway every time you need to.
What I love about this is how easy and inexpensive it is. But even more so, I can stay calm if one of my kids decides that it's time to lick the shower wall… Having residue of harsh cleaners on everything is definitely something that got me nervous when my first child started crawling. Once I switched to something as mild and effective as this simple mixture, it was one less thing to worry about. I'm not overly paranoid about all things chemical but discovering how I can clean with simple DIY mixtures just doesn't leave any reason to keep them around.
Notes
Having this little magic brush in my bathroom has other perks, too. It's super handy for a quick wipe through the sink or bathtub. But what's even better: Kids love cleaning with it, too, and with this safe mixture you can let them do it without worry. And even husbands might enjoy helping out if they get to use this little helper.
I also switched to using one of these soap dispensing brushes for my dishes (I did get a separate one for that…. 😉 ) and I still love it. It allows me to quickly rinse dishes off while keeping my hands mostly clean and dry.
If you are using this on tiles regularly, you may want to dilute the vinegar as it could potentially slowly destroy the adhesive between the tiles. I'm mentioning it because this point of concern was raised by a tile expert. I've used it for years and haven't had any issues, though. I'm also pretty sure that this mixture cannot possibly cause more damage than harsh cleaners with all the danger labels on them.
These sponges tend to leak the contents of the handle slowly if the sponge end is kept lower than the handle. So try to stick it into a shower organizer with the sponge facing up or simply build a loop with a cable binder to be able to hang it up.
I'm pretty sure you'll be looking for one of those sponges right now. You might have all the necessary ingredients at hand already so go ahead and prepare your little shower cleaning helper. See what it's like to clean your shower while showering in less than five minutes. I'd be very much surprised if you didn't love it as much as I do. It's just one less thing to think about. So, if you do love it, let me know about it in a comment!
If you'd like to be notified as I release more articles in English, please sign up for my newsletter:
To hear about new posts and find out more about me, follow me on Social Media: