Would you like to make your own spicy Chai Latte that's at least as good as Starbuck's? After many failures, I considered it impossible. That is if you'd like to do without the artificial flavoring in ready-made Chai syrups. But then I discovered this method and I'm here to tell you – it's easy to make a perfect Chai Latte at home! Let me show you how.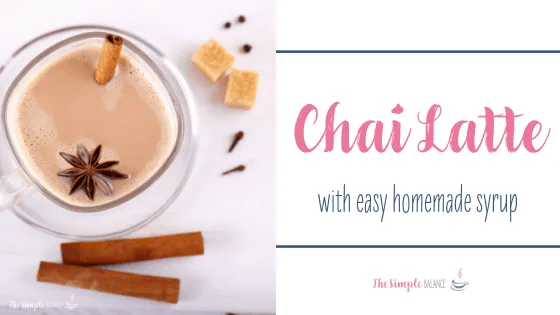 How to make perfect Chai Latte at home
Ever since I held my first Chai Latte in my cold hands at Starbucks, I wanted to recreate it. I kept experimenting to replicate the taste at home but ran into some issues:
I started out with Chai tea bags and lots of milk. Way too watery to come even close to my coffee house favorite.
Next, I tried regular black tea with spices. Still too watery and too much effort for everyday life.
So I researched aroma free syrups but that would get quite expensive. And then it hit me – why not make my own syrup to add to hot milk?
Homemade syrup for perfect & easy Chai Latte
A search brought me to this recipe which I modified to make it even easier. And at last, it is possible to enjoy a creamy, spicy, aroma-free Chai Latte at home.
The basic steps couldn't be easier:
Brew super-strong tea with lots of spices by steeping for longer than usual.
Strain and return to the pot.
Add sugar or honey to turn it into a syrup.
Store in your fridge for 3-4 weeks and enjoy easy, quick Chai Lattes.
The best part is that you get to decide what you put into your homemade Chai Latte syrup. And there's even some wiggle-room: If there's a spice you're not very fond of, just omit it. And if you only have three cinnamon sticks left, then your Chai Latte experience won't suffer.
A note on spices:
I prefer to order the necessary variety of spices online. Simply because I rarely have the energy to search a huge supermarket spice rack – which still doesn't come with a search function… But you'll get everything in a well-stocked store as well.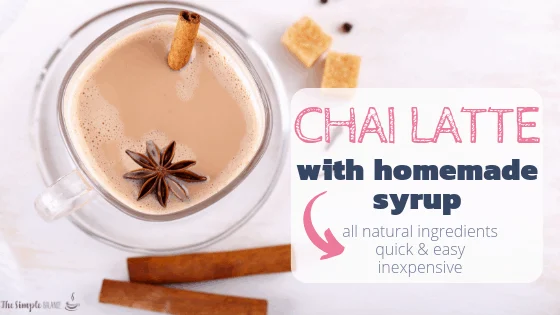 Chai Latte syrup made in the Instant Pot
If you have one of these sitting at home, you'll no doubt grab every opportunity to use it. And as I've discovered, using the Instant Pot to make your homemade syrup is even easier! Because you don't need to stick around as much.
This is how you do it:
Add all of the ingredients to your instant pot, except the honey.
Set to 5 minutes high pressure in MANUAL mode. This will take about 15 minutes, with the time required for pressure to build up.
After the peep, quick-release the pressure.
Remove tea bags and spices with a skimmer – or pour through a sieve and pour the liquid back into the pot.
Stir in honey or sugar.
To speed up this process, use SAUTÉ to accelerate the dissolving of the sugar.
For a thicker Chai Latte syrup, let it reduce for 5 more minutes.
Chai Latte – an indulgence for ordinary days
If you love Chai, and Latte, and what happens if you put the two together, then you will love this recipe. It's a nice change from coffee – and by using decaf tea bags, you can even enjoy this later in the day.
With this homemade Chai Latte syrup, you'll be able to surprise your guest with a coffee house treat. And since it keeps for a while, it is another excellent homemade Christmas gift!!
So how about you go grab those ingredients and get started? Within the hour, you'll be leaning back, enjoying a warm, beautifully spicey Chai Latte.
For a fraction of the cost.
Without having to leave your home.
And with all natural ingredients.
That definitely counts as self-care… 😉
And in the summer, try my iced latte recipes instead!
Ready to get more balance into your life? Sign up for my newsletter and gain access to my soon-to-be growing VIP area!