Looking for small, yet thoughtful DIY gift ideas for Christmas? Then you'll love my 15 Minutes of Christmas in a jar! It's budget-friendly and easy to make, with tons of ways to personalize your gift in a jar. And best of all: You're giving someone 15 minutes of Christmas peace.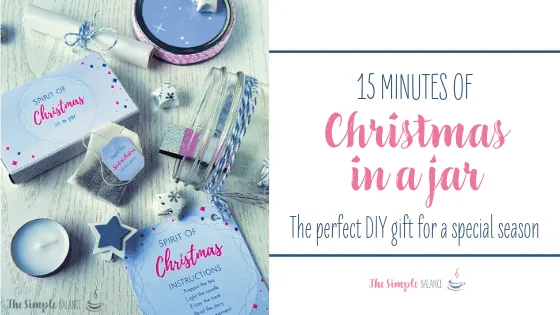 Never did I try to cram so much into the weeks leading up to Christmas as I do now as a mom. There is a endless list of things I have to do, want to do, should be doing. Writing Christmas cards. Getting thoughtful gifts lined up and perfectly packed. Tastefully decorating our home.
Baking Christmas cookies. Attending Christmas gatherings. Making little DIY thank you gifts for teachers, neighbors, acquaintances. Singing with the kids. Taking a walk through the brightly lit neighborhood. Enjoying Christmas time.
Busy weeks before Christmas
Now that's already quite a list for just a few weeks. But, it's not like we're on a full-board, Butler-assisted, luxury holiday during those weeks. Laundry still needs to be done. Dinners need to be cooked. Groceries must be gotten. School lunches should be packed. Ideally, even the house would get cleaned… some – not a lot.
Looking at the demands that Christmas season is placing on us, it's really no surprise at all that many consider this to be the most stressful time of the year. So wouldn't it be nice if someone gave you a break for just 15 minutes?
Something that kindly forced you to slow down, breathe, relax and enjoy the season? If you'd love that, chances are so would the people around you. And that is why I created 15 Minutes of Christmas in a jar.
Christmas in a jar as a small gift
The idea is to give someone a complete kit with everything they need to enjoy the Spirit of Christmas even just for a few minutes. What gets most people to calm down while highlighting the Christmas season?
A hot drink and a candle, a treat and a short story to read. These simple components contain everything needed for a moment of self-care during a busy season. That is why this DIY gift idea emanates an incredible sense of tranquillity.
Christmas gift in a jar for neighbors & teachers
Its simplicity makes it a great little thank you gift for neighbors, teachers, the helpful staff at the doctor's office, and dear friends. This DIY gift is fairly inexpensive, quickly put together and comes with neverending options to personalize it.
However, what I like best about this thoughtful gift in a jar is how it shows appreciation with little risk that the other person will feel obligated to gift back.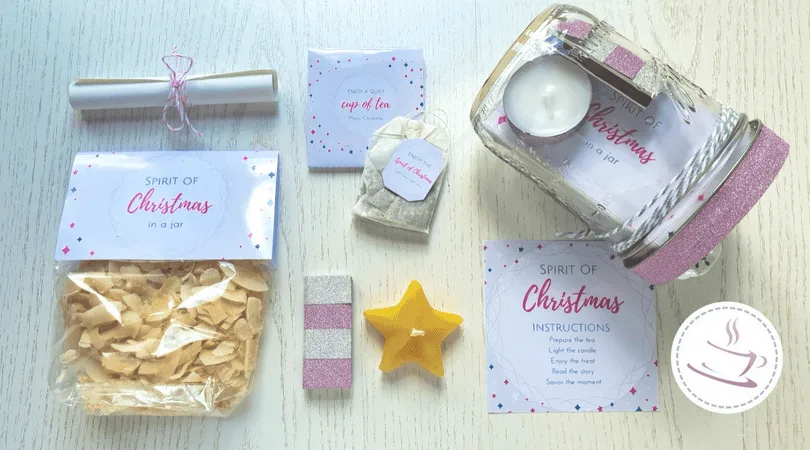 15 Minutes of Christmas in a jar – the essential components
I created printables so you can decorate all your components to match, which you can get for free in my VIP area. However, it is entirely up to you how much time and effort you want to invest. You can keep it really simple with store-bought treats and packaged drinks. Or you can go all out and hand-sew a star-shaped tea bag.
Well, let's not get carried away… First, let me give you the main components as well as ways to customize your DIY gift in a jar.
#1 Hot drink
My favorite go-to is a tea bag because it's small, inexpensive, looks fairly pretty and, well, I like tea. But not everyone is into tea, so there are several other options:
Instant espresso sticks or ready-made coffee mixes are great for coffee lovers.
Chocolate aficionados would probably enjoy a store-bought or homemade hot chocolate mix.
Really, any hot drink that can be whipped up in a few minutes will work well.
#2 Candle & matches
I like the simplicity of a tea candle decorated with washi tape. But maybe you know someone who loves beeswax candles? Then swap some beautifully shaped candles for the tea light.
If you're giving this gift to someone working in an office or other public space where a real candle wouldn't be allowed, consider using a small LED candle instead. Matches are optional, but when decorated with washi tape, they sure add to the look of this gift in a jar.
Scented candles would make this 15 Minutes of Christmas in a jar experience even more sensual – provided the recipient enjoys those. If you'd like to add some scent without the somewhat artificial smell of scented candles, I have more options for you:
Add a few drops of wild orange essential oil to a dried slice of orange – or cinnamon and clove essential oils to a stick of decorating cinnamon. Or you could use a small cone and add a few drops of pine essential oil.
#3 A treat
The most obvious choice would, of course, be a homemade Christmas cookie. But in the interest of lower stress levels, store-bought cookies will work just as fine. A small gingerbread cookie, decorated cutout cookies or even homemade slice & bake cookies are a great way to treat someone.
For the health-conscious people in your life, a treat wouldn't have to be a cookie. A small bag of coconut chips makes a great alternative to conventional treats.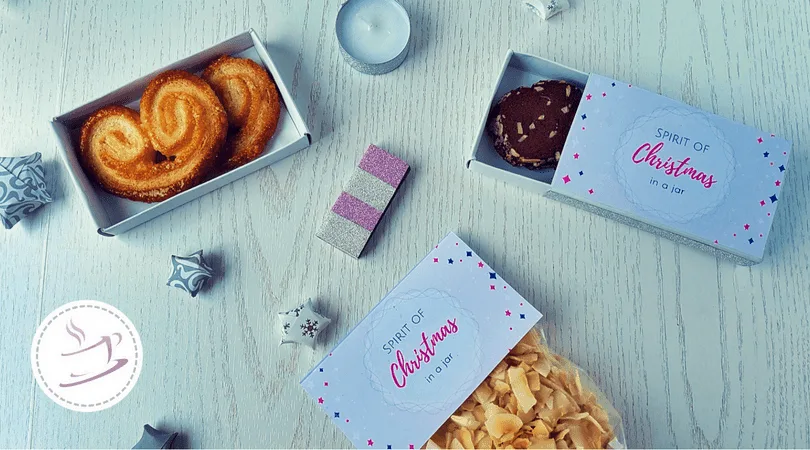 #4 Short Christmas story
Christmas is an inherently Christian holiday so naturally, adding the biblical Christmas story might be considered a no-brainer by some. However, a less religious story might add more to the relaxing and pensive mood you are trying to set with this gift. Here are links to a few Christmas-themed stories which you could choose from – or pick your favorite story or poem and print it.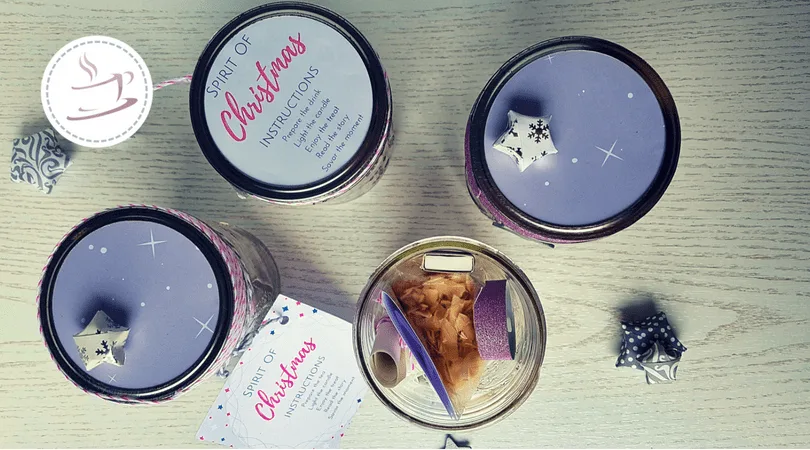 Further variations for Spirit of Christmas jars
If you want to send these gifts by mail, use a gift bag instead of the mason jar. You could even make your own by using the patterned page of the printout. Here's a link to a video tutorial on how to make gift bags the easy way.
If you have no suitable clear gift bags to use for your treat or drink, you could make your own using clear gift wrapping foil. Simply follow the tutorial for paper gift bags.
I wasn't kidding when I mentioned the hand-sewn tea bags. If this is your way of showing love, go ahead and follow this tutorial. If you wanted to, you could use a star-shaped template like this one.
For an extra wow effect on your gift in a jar
For an extra wow effect, you could bake matchstick cookies and place them in a large matchbox. Here is a recipe if you are feeling up for it. I must warn you, though: I did this for 40 gifts one year and came to regret it. So only do this if baking is a way for you to wind down.
I hope I was able to show you, that the 15 Minutes of Christmas in a jar can be as simple or as elaborate as you want.
My simple balance tip:
If you're pressed for time, use purchased treats, gift bags, and washi tape to keep things as simple as possible. Keep the more elaborate version for another year. Also, reduce the number of recipients and consider buying something small for a larger crowd.
But no matter what level of effort you choose – these 15 Minutes of Christmas in a jar DIY gifts will most definitely bring lots of joy to the people who receive it.
If you'd love to get more tips that make life easier and more enjoyable, simply sign up for my newsletter This will also give you free access to my VIP area. Within the next few weeks, you'll see more resources added so be sure to join my list. In addition, I'll send you simple balancing tips straight to your inbox about 2 times per month – for a little extra encouragement that I don't share on here.
Find what you need to make this gift:
No products found.