Going on a road trip with babies & toddlers is not for the faint of heart. The long drive might be trying even for adults, but can turn into a nightmare with small children. Yet with my tried-and-true 25 survival tips, you have a chance to make your next road trip an enjoyable experience – for parents and kids!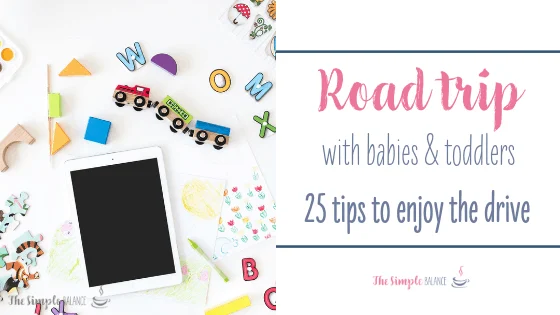 *This article contains affiliate links. That means that if you buy through any of the links marked *, I will receive a small commission at no extra cost for you. But you do have my promise: I only recommend what I personally like and find helpful.
Going on a road trip with babies and toddlers
You're really looking forward to your family vacation. But the thought of the long road trip feels like a rock in your stomach. After all, you're going with a baby or a toddler – or even both!
To prevent a nightmare trip and make this as enjoyable as possible, preparation is key. In this article, I'll share my 25 best practical tips to help you enjoy the ride!
Driving for 12 hours with three small children
With the most beautiful sea view, our favorite holiday home requires about 12 hours of driving from Germany to the British coast. The first time we fell in love with this cute little seaside town, we had two toddlers in tow.
With grandparents living 350 miles away and small age gaps between all three of our kids, I collected a number of essential survival tips. They will help you arrive stress-free. Or at least make sure that your holiday relaxation lasts longer than the drive home.
#1 Schedule plenty of breaks on a road trip with babies & toddlers
This may be the most common advice and for good reason. Dividing your trip into manageable sections is key. With a baby,it's recommended to take a break at least every 2 hours. Older toddlers are probably fine with 3 hours of consecutive driving.
But there is one major exception: When everyone is asleep, keep driving and gain as much ground as possible!
Good spots to take a break:
Ferries – allowing babies and toddlers to move around while getting closer to your destination
Rest areas with playgrounds along the motorway
Restaurants with small indoor playgrounds on rainy days
Picnic areas in parks, woods, on river banks, lakesides or beaches near the motorway
Explore potential stops via Google. And if necessary, plan for an overnight stay along the way. If you need to spend the night somewhere: Make sure you pack a separate overnight bag. And keep it within easy reach so you don't have to unpack the entire car.
Basics for your road trip with babies and toddlers
Keep the following items in your car for long drives with small children:
#2 Garbage container
It doesn't have to be a special car bin. A simple food container with a pouring spout is perfect. Check the dollar store for quart-sized containers that fit into the side pocket of your car door.
Emptying is even easier with small garbage bags – the size you'd use for bathroom bins. To avoid extra plastic, simply place the container in your dishwasher when necessary.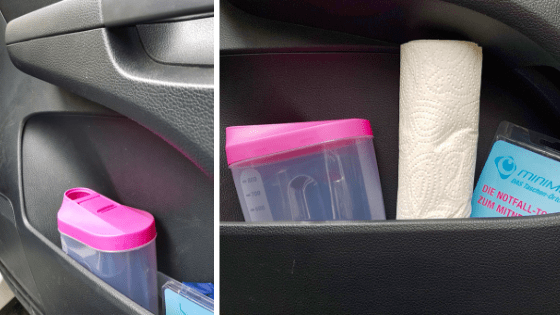 No products found.
#3 Emergency toilet solution for your car
We haven't been forced to use it yet, but its presence is oh so reassuring: The emergency toilet. They even come with adapters for girls so anyone can find quick relief in the middle of a traffic jam. Or when there simply is no toilet to be seen. Any newly potty trained toddler will be glad to have this emergency option. Or just keep the adapter around so girls don't need to squat for a pee.
No products found.
#4 Paper towels & water bottle
A simple roll of paper towels is indispensable. And it will help you solve many a problem if you add a water bottle to the mix: Sticky hands, a missing tissue, leaking or spilled fruit pouches, a child getting car sick – paper towels and water to the rescue.
If you need to use them anyway, a pack of wet wipes works magic just as well.
#5 Travel sickness inhaler
My middle one is prone to get car sick and this simple homemade inhaler brings quick relief:
Get a reusable inhaler and add the following essential oils to the wick:
7 drops peppermint oil
4 drops ginger oil
4 drops lavender oil
Label the inhaler and keep it in your car. Now you're prepared and able to quickly solve oncoming travel sickness.
No products found.
#6 Nausea bags
I keep at least one nausea bag in the car just in case. They are small and don't need a lot of space. And once they were in use, you can contain the mess by twisting and hooking the bag into the rim. You'll be able to make it to the next parking lot and toss it.
Sleep & comfort on road trips
#7 Cuddly blankets
Cuddly microfibre blankets are a hit with small children. Especially when you're driving early in the morning or late into the night. Not only do they assist in falling asleep. They also allow children to be dressed lightly. And thus avoid having to get rid of layers during the drive.
#8 Microbead pillows
I found microbead pillows incredibly useful for toddlers. Similar to a neck pillow, they can be pushed into shape and used for sleeping.
They also double as a lap desk solution to elevate books and games.
#9 Eye masks & sleep support
Let's be honest – when it comes to road trips with babies and toddlers, sleep is our best friend. Which is why it's important to make your trip as sleep-friendly as possible.
Colorful eye masks can help kids fall asleep during naptime. Babies probably won't tolerate them but toddlers might find them fun.
For babies, in particular, consider a headband to keep baby's head from bobbing around while sleeping: Attach the soft band to the headrest of the child's seat and slide it over the forehead of the sleeping child. This will stabilize the neck and also shield eyes from daylight.
Finally, a padded belt cover might make your children feel more comfortable in the car – and not just because they come in cute colors and designs.
No products found.
Food on a long road trip with babies and toddlers
When it comes to travel snacks for babies, the possibilities are very limited. Due to the risk of choking, it's recommended that babies be given fluids only while driving in cars. From about 18 months, our children were well able to eat most of the snacks in the car. You know your child best but if you have any concerns, go and check with your pediatrician.
#10 Perfect travel snacks
Travel snacks need to tick quite a few boxes:
low-level risk of causing a messy car
they should supply little bodies with fluids and energy
and ideally, they're not all fast food and sweets
Okay, let's just accept the fact that we'll have to vacuum the car afterwards anyway… But the following foods have proven to be really practical on long trips with small children:
crackers and salt sticks
fruit or veggie pouches and smoothies
grapes and blueberries
cherry tomatoes and snack cucumbers
dried fruits and nuts
string cheese and babybell
fruit bars, fruit leather/roll-ups, and granola bars
breakfast cereals, and biscuits
#11 Individual snack boxes
My children love it when I prepare individual snack boxes. It saves you lots of head-turning and your kids are in control over when and what they eat.
Get small containers with compartments, label them with names and fill each of the small compartments with travel-friendly snacks.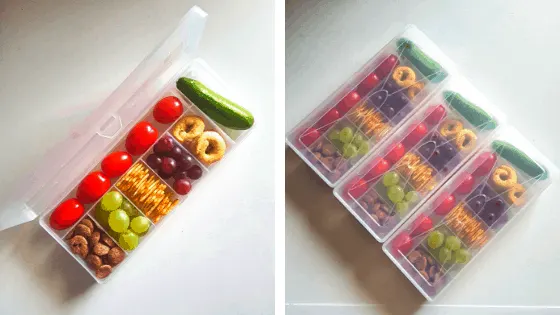 No products found.
#12 Food bag
Prepare a bag containing all the drinks and snacks and keep it within easy reach. In our car, the legroom on the passenger's side works best, but some cars might not be spacey enough.
You can place a small plastic bin into the bottom of a reusable bag for extra stability. It also helps with organization. Using a reusable bag also means it takes up less space as snacks get finished.
#13 Magazine holder for bottles
If there isn't enough room in the door compartments (or they aren't accessible for small children), consider this solution:
Place a magazine holder inside your food bag and put all the bottles inside. They won't topple over during your drive and it's easy to reach the one you need.
#14 How to transport delicate snacks
Crackers, breakfast cereals, grapes, cherry tomatoes, and blueberries – all are perfect for a road trip. But they also get squished easily, leaving a mess.
To prevent this, use an empty, rinsed smoothie bottle with a larger opening. Fill them with those delicate snacks and enjoy the ease: The opening allows for a handful to be taken out. And without scattering the entire box of washed grapes in an unexpectedly steep curve.
Or upcycle small coffee-to-go cups with lids. They are easy for children to use and can be labeled with names (which for some reason seems important to my children…).
Activities on a road trip with babies and toddlers
It is always a challenge to keep children entertained during a long car ride. Sure, snacks are more than just food consumption and help pass the time.
But I like to make sure that my kids don't just rotate between snacking and movies. So here are my favorite tips for activities on road trips.
#15 Drawing board
Drawing boards are perfect to keep kids busy and happy for quite a while. Insert a blank sheet of paper into a simple picture frame. Then use dry erase pens for drawing.
They are perfect for scribbling and starting over with a simple wipe. I recommend getting pens that have felt built into the caps which makes things that much easier.
Extra tip: To easily remove dried up pen residue, use a piece of dirt eraser – works better than water.
#16 Magnet and threading games
Steer clear of games with lots of small parts. Experience shows that within a few minutes essential pieces disappear into the deep dark underground of your car and won't be found any time soon.
To prevent tears and unnecessary stops, magnetic and threading games are great. They significantly reduce the risk of disappearance and keep most children busy for a while.
Tip: If you don't want to buy a ton of new games for your road trip, simply hide a few suitable games in the weeks leading up to your trip. It will bring on the novelty factor and your kids will get excited to see them again.
#17 Dry-erase books
One of my favorite discoveries for toddlers and even preschoolers are dry erase workbooks. Connecting the dots or tracing outlines with dry erase pens work wonderfully in the car!
Simply erase and start over – or let your siblings have a go. Click here for a huge selection of dry erase activity books.
No products found.
#18 Laminated bingo
There are tons of road trip games online. Simply pick out a few that are suitable for your children, print and laminate the pages. Using dry erase pens again, you can play travel bingo over and over without having to drag along a stack of paper.
Even easier than laminating is using a transparent pockets like the one you can find below. Simply insert the sheet, draw and erase. This way printables can be swapped between siblings instead of printing everything multiple times.
No products found.
#19 Coloring kit
You prefer colored pencils over dry erase pens? No problem! Print a couple of coloring pages or games for each child and put them in a folder. Add a new pack of crayons or coloring pencils.
Stick a piece of velcro to the back of the crayon pack and the counterpart to the inside of the folder. That way they remain in place and are easier to reach.
Extra tip: Place a few Velcro dots or strips on the foldout table in the car. Then prep all utensils with the counterpart. This will help everything to stay where it's supposed to be.
If your child cannot reach the small table, then a simple clipboard will do the trick.
#20 How to entertain a baby on a road trip
Unfortunately, babies cannot be entertained for long. They make up for it by sleeping more but in addition to more frequent breaks, they need to be kept busy while awake, too: The following objects can distract a baby for a bit:
velcro strips
rattles
keys
a baby toothbrush
finger puppet games
singing songs
small mirrors
a cloth to chew on or play peek-a-boo with
and of course baby's favorite stuffed animals
Depending on his age, an activity board or quiet book can also be a wonderful pastime for babies. Click here for some inspiration. If you like sewing and crafting, check Pinterest for inspiration and make your own quiet book.
No products found.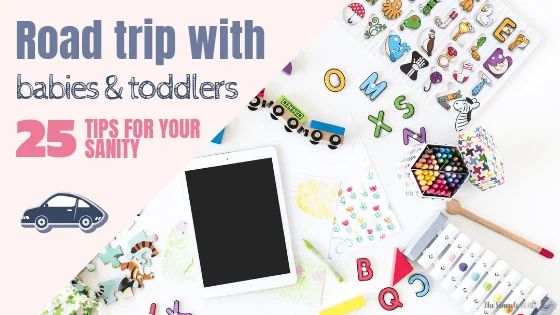 Technology for enjoyable road trips
Fortunately, we live in a time with endless possibilities of entertainment through technology. There are DVDs, apps, audiobooks and music in abundance.
On long journeys, we loosen the reigns regarding the use of tablets. Our motto is: Everything that makes the journey bearable (for all of us…) is welcome.
Nevertheless, apps and DVDs are reserved for later phases of the road trip. Here are tips to make this easier:
#21 Hotspot in the car
For all friends of technology, it can be worthwhile to convert your car into a mobile hotspot. It's just much easier to stream music and audio books. They can even watch a few videos without downloading them at home.
It also reduces data consumption on parents' smartphones, because everyone is logged into the car's wifi. Check out this page to find a suitable solution.
Before we had a hot spot, my techy husband set up a mini car server. If you are tech-savvy or know someone who can help, this article will show you one option.
#22 Old smartphones as listening devices
Car noises can make it really difficult to properly listen to music or audiobooks, particularly in the back of the car.
Here's an easy solution for small children and toddlers who don't have their own smartphones yet: Use an old smartphone and set it up so that your baby or toddler can listen to his favorite music or stories.
Just download your favorite albums at home through the streaming provider of your choice and play them offline during your road trip. Combine with headphones if possible – you'll thank me later… 😉
#23 Connecting headphones
Even the most resilient parent needs a break from Peppa Pig and Paw Patrol on a 12-hour road trip. In order to allow all kids to listen or watch together, use headphones with a share port.
Your toddlers will be able to follow the story despite car noises – and you will enjoy the peaceful quiet.
For very young toddlers and even babies, there are also cuddly headband headphones in fun designs. They are comfortable on tiny ears and fit even in narrow car seats.
No products found.
#24 Apps for small children
Allowing a new app is sure to excite even your toddler but you need to test them at home. If your child gets disrupted with ads every 90 seconds, your neck will probably be stiff by the time you arrive at your destination.
To avoid annoying in-app ads, we prefer the apps of well-known toy manufacturers (Lego, Duplo, Playmobil, etc.). Their advertising is the app itself and they obviously have a generous budget for app development.
It can also be worth investing a few bucks in the ad-free version of a much-loved app.
One thing we completely fell in love with is Amazon's Fire HD kids edition tablet. It comes with FreeTime for a year (ad-free games, thousands of books, audiobooks, and tv shows) and really smart parental control options. It is absolutely worth the investment so click here to get yours:
No products found.
#25 Tablet holder for the middle seat
Since we didn't really warm to the classic car DVD players, we rely on simple tablets for movies. At least a few movies can be stored on them or be streamed via hotspot.
If you have a child sitting on the middle seat with no seat directly in front of them, then you might find this special holder as helpful as we do. Click below to get yours.
No products found.
Bonus tip
If you're travelling with very small children, it doesn't hurt to have hand sanitizer available. If you'd like one that can be made at home, I have two recipes for homemade hand sanitizer – they work against viruses and bacteria and can be skin friendly as well.
Relaxing on a road trip with babies and toddlers
So, there are lots of things you can do to make your life easier when traveling with small children.
In the interest of self-care, driving safety and, of course, your children's happiness, it's worth making road trips as pleasant as possible for everyone involved.
Think of EVERYONE
But please make sure that you don't just consider your children's well-being during a road trip, but also your own. Nobody benefits if you spend the first couple days of your vacation stressed out and with a painful neck.
So do and get whatever is necessary so that all of your family can enjoy this road trip – including you.
You can do it!
Ready to get more balance into your life? Sign up for my newsletter and gain access to my soon-to-be growing VIP area!