Got an itch caused by insect bites, sunburn, dry skin or allergies? You can make your own natural anti itch home remedy. And with just a few ingredients. This soothing DIY anti-itch lotion nourishes your skin naturally and promotes healing.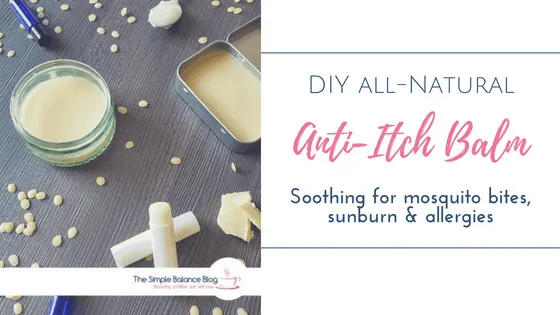 Itching can drive me crazy to the point that I don't even care about possible scars.
All it takes are a few mosquito bites. Once the trigger is set off, every thought revolves around the itch. So to be prepared, I'll show you how you can easily make a soothing anti itch balm at home. (No time to read? Click here to save to Pinterest.)
Causes of itching
Itching comes in many forms: There's the classic and annoying mosquito bite. Because you forgot to bring or use your homemade mosquito repellent…
Other common causes of itchy and irritated skin include sunburn and insect bites of all kinds. And then there's allergies, dry skin, and dried sweat.
Oh – and do not underestimate the psychological component. Stress can lead to itchy skin as well. Or the fact that you're reading a post about itching… 😉
A natural anti itch home remedy
Medicinal treatments for itching, such as antipruritics, certainly have their place. But using a home remedy can be your first line of defense.
I am a huge fan of giving mother nature a chance to perform before launching heavier artillery. And plant extracts are the ideal place to start:
They are fairly inexpensive and usually have little to no side effects. Rather than using tea or alcoholic extracts (like tinctures) I love using essential oils, mostly out of convenience.
Herbal remedies pros and cons
Being a highly concentrated form of herbal ingredients, essential oils offer a natural treatment for itchy skin.
There is one disadvantage, though: Home remedies usually require frequent application. And much more patience. Unfortunately, that's the point where I usually fail…
Luckily, this particular home remedy for itching is an exception! It is just as practical as commercial counterparts. And the job is done in 15 minutes flat. Even if you never made a balm in your life.
And your itch will take care of the reminder to reapply the balm… 😉
Preparing your anti-itch balm
You'll need a few extra ingredients, which you may not yet have at home:
beeswax pellets
cocoa butter
aloe vera gel
coconut oil
Check your health food store, the drugstore or Amazon. You'll quickly find what you need.
First, make a basic skin-care balm mixture:
1 tbsp (about 10 g) beeswax pellets
3 tbsp (about 45 g) coconut oil
1/2 tbsp (about 5 g) cocoa butter
1 tbsp (15 ml) aloe vera gel
Put beeswax, coconut oil, cocoa butter and aloe vera gel into a heat-resistant glass jar. Fill a pot with about 1 inch of hot water. Then, place the glass jar in the pot carefully.
Heat the mixture on low heat until everything has melted. Occasionally you may want to stir. It takes about 8-10 minutes.
You can also use your microwave: Heat the ingredients in 20-30 second intervals for about 3 minutes in total.
Note: The aloe vera gel does not mix with the melted oils. But with a little stirring, it gets distributed quite well.
Add the oils
Carefully remove the glass jar from the water or microwave. Now stir again before adding the essential oils.
I recommend using about 20 ml of the mixture (1 tbsp + 1 tsp). That's about a quarter of the total amount.
Different age groups require different dilutions. So by only using part of the mixture, you're able to make several versions.
Add the required amount of essential oils as described in the next section. Stir carefully and then gently pour the liquid into the containers of your choice. Place in the refrigerator for about an hour.
Best containers for your homemade anti-itch balm:
capacity of 5 ml or 15 ml each
re-fillable deodorant sticks
empty lipsticks
small metal jars
small mason jars
ice cube molds
Particularly for the treatment of larger sunburn areas, small ant-itch lotion bars are helpful.
If you live in hot areas, keep your anti-itch balm in the fridge. To take along, always use wide-mouth mason jars. You don't want a stick melting in your purse…
Extra tip: Only need part of the balm mixture?
Allow the leftover base mixture to solidify in a mason jar. When you're ready to make more, simply place the jar in hot water to melt.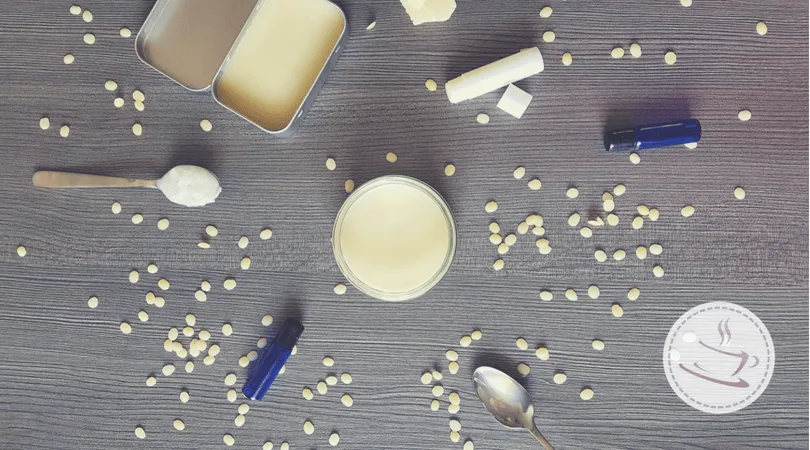 Age-appropriate recipes for a balm against itching
Essential oils contain a high concentration of active plant ingredients. Therefore, they need to be diluted for babies and children. Pregnant women and nursing mothers also need to take a few precautions:
Pregnant women should only use essential oils in consultation with their midwife or doctor.
Breastfeeding women should omit peppermint oil. Unless they are weaning anyway.
Babies and infants (6-36 months) per 20 ml (one-quarter of the basic recipe)
2 drops of lavender oil
1 drop of tea tree oil
Children from 3-10 years per 20 ml (one-quarter of the basic recipe)
4 drops lavender oil
2 drops of tea tree oil
Children over 10 years and adults per 20 ml (one-quarter of the basic recipe)
8 drops lavender oil
4 drops of tea tree oil
2 drops peppermint oil
Extra tip: For a particularly soothing effect after sunburn or insect bites, it is best to keep a balm stick in the refrigerator.
Variations & modifications
Trying to simplify the basic mixture?
Skip the aloe vera gel or cocoa butter if you don't have them. Then reduce the essential oils by one drop each. However, this only works with the mixture for adults as the other dilutions would require half-drops…
Repurpose the basic balm mixture:
You can also make other solid skin care products, if you have experience with essential oils. Simply put together your own combination against dry skin. Please make sure that the concentration of essential oils for adults is in the range of 12-16 drops per 20 ml and never exceeds 20 drops.
Use against insects:
Use the balm mixture to produce an anti-mosquito balm. Because it gets applied over a large area, prepare the full amount of the balm. Adapting to 80 ml of liquid (1/3 cup minus 1 tsp), make the following adjustments:
for adults: 7 drops of each essential oil listed in the insect repellant recipe
children over 3 years: 3 drops per oil
babies, adjust the baby-safe version to 7 drops of each of the two essential oils
The Simple Balance Tip
No energy to start hunting down unusual ingredients and melting waxes? Go for the easiest anti-itch solution:
Get a 10 ml roller bottle.
Half the amounts of essential oils.
Add them to the roller bottle.
Fill it up with olive oil.
When needed, roll over the itchy skin and allow to dry. All done!
So whatever the cause – with this soothing balm you'll be equipped to fight your itch naturally.
Don't wait for the next insect bite! Make sure you have a supply ready and make some as soon as you can.
I'm sure your future self will thank you!
No products found.
If you are interested in more articles that help you take some of the pressure off and allow you to enjoy everyday life more fully, then go ahead and sign up for my newsletter: