Looking for small, yet thoughtful DIY gift ideas for Christmas? Then you'll love my Spirit of Christmas in a jar! It's inexpensive and easy to make with tons of ways to personalize your gift in a jar. And best of all: You're giving someone 15 minutes of Christmas peace.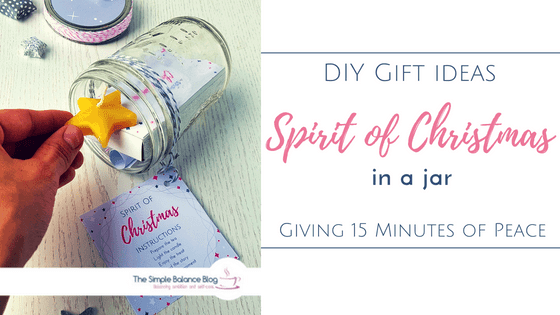 Never did I try to cram so much into the weeks leading up to Christmas as I do now as a mom. There is a never-ending list of things I have to do, want to do, should be doing. Writing Christmas cards. Getting thoughtful gifts lined up and perfectly packed. Tastefully decorating our home. Baking Christmas cookies. Attending Christmas gatherings. Making little DIY gifts for teachers, neighbors, acquaintances. Singing with the kids. Taking a walk through the brightly lit neighborhood. Enjoying Christmas time.
Now that's already quite a list for just a few weeks. But, it's not like we're on a full-board, Buttler-assisted, luxury holiday during those weeks. Laundry still needs to be done. Dinners need to be cooked. Groceries must be gotten. School lunches should be packed. Ideally, even the house would get cleaned… some – not a lot.
…